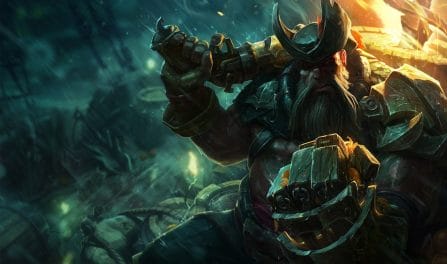 Las mejores runas, elementos y consejos para dominar a tu competencia
103,081 Gangplank Builds Analizadas
We calculated our Gangplank build guidance by examining 103.081 recently ranked League games with him in them. We only recommend the top winrate Gangplank builds that were used by ranked gamers enough times for us to propose them. With so many matches in our dataset, we are quite confident in our recommended builds.
Additionally, to see the best Gangplank build for a different skill level, please pick a different skill tier from the dropdown menu above. The proposed Gangplank builds will update to reflect that skill level's meta.
Los mejores items para

Gangplank
The most critical items to incorporate into your champion's build include: Fuerza de trinidad,Calibrador de Sterak, and Colmillo de serpiente. Those who added these items in their setups had a much higher winrate than those who worked towards other Gangplank builds.
Additionally, similar to our rune advice, you can also get quality, focused, Gangplank item builds a little further down for the particular enemy team composition you are battling in your next match.
Gangplank

Items para derrotar a los Comps de equipos enfocados
Las mejores runas para

Gangplank

Garras del inmortal

Demoler

Revestimiento de huesos

Revitalizar

Tónico de distorsión temporal

Mercado del futuro
If you are battling a well-mixed enemy team comp, you should strongly consider getting Gangplank the Valor, and Inspiración runes. In recent games, he won the largest number of his matches when using these runes.
However, if you are battling a more single focused enemy team composition, such as an AP centric or a CC centric team, you should instead scroll below to find the best Gangplank runes to win your particular match.
Gangplank

Runas para vencer a los equipos enemigos dedicados

Garras del inmortal

Demoler

Revestimiento de huesos

Revitalizar

Tónico de distorsión temporal

Entrega de galletas
Guía para jugar con

Gangplank
Pide a tus aliados que te avisen cuando haya enemigos con poca vida para poder usar la Descarga de cañones desde lejos.
El barril de pólvora puede utilizarse para dividir el empuje en determinadas situaciones.