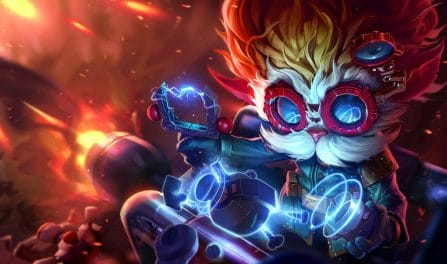 Los mejores campeones de LoL para sinergizar y contrarrestar a Heimerdinger
48,753 Heimerdinger Counters y emparejamientos analizados
To select the greatest and worst counters for Heimerdinger, we checked the scores of 48.753 recently played, ranked LoL games. We determined which champs have the highest and lowest win rates versus him. Moreover, we extracted those few that are good teammates and who could help stop him from being beaten. Having summarized so many games leaves us with great certainty in our conclusions.
As shown above, Yasuo is the best to challenge Heimerdinger with a 54.9% win rate against him. Close behind, Ziggs and Xerath are the next greatest counters to Heimerdinger. These two champs have win rates of 54.5% and 53.0%, respectively. You should avoid bringing him into a match where any of these other champs has already been chosen.
Mejores counters de

Heimerdinger
Peores counters de

Heimerdinger
Conversely, if you are playing against Sylas, you can anticipate doing much better. Heimerdinger counters them with a solid win rate of 62.1%. Similarly, you can expect to do very well when battling LeBlanc and Katarina. These champs have the next worst winrates against Heimerdinger.
If you want the best champion pairings for your own comrades to enhance your chances of winning more, glance at our champion synergies.
Sinergias de

Heimerdinger
Regardless of his chosen position, he does best when paired with Maestro Yi. This combination usually raises his average win rate by a few percent. Nocturne and Miss Fortune are also fantastic champions to pair with.
If you would like to learn more about a particular Heimerdinger counter, including the preferred builds to adopt in that situation, please click the corresponding row in the tables above. If the particular Heimerdinger counters you are trying to find aren't shown below, you may see all potential counters at the button above.
To limit the Heimerdinger counters to a particular skill level only, select the desired skill level from the dropdown above. The recommended champ counters and pairings will be updated.
Cada semana revisamos millones de partidas de League of Legends sacadas directamente de los servidores de Riot. Analizamos los datos usando tanto estadísticas convencionales como algoritmos avanzados de aprendizaje automático para obtener los counters de Heimerdinger más precisos.
Guía para contrarrestar a

Heimerdinger
Manténgase fuera del alcance de las torretas evolutivas H-28G, no enfrente a Heimerdinger dentro del alcance de sus torretas.
Heimerdinger contrarresta a la mayoría de los campeones cuerpo a cuerpo a su alcance. Sus torretas pueden intimidar a su oponente y negarle CS.
Heimer intentará aturdirte si lo diveas. Tenga cuidado y evítelo, o sufrirá daños masivos en la torreta.