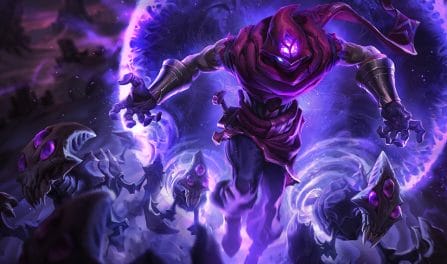 Los mejores campeones de LoL para sinergizar y contrarrestar a Malzahar
166,506 Malzahar Counters y emparejamientos analizados
We computed our best and worst Malzahar counters with data pulled from 166.506 ranked League games. We have established those champs with the best and worse rates of victory when facing him. Additionally, we calculated which champs can be valuable allies to improve your rank.
As you can see above, Viktor is the best to face off against Malzahar with a 54.0% win fraction against him. Close behind, Graves and Diana are the next greatest counters to Malzahar. These two have win rates of 53.8% and 52.7%, respectively. You should avoid taking him into a round where one of these other champions has been picked.
Mejores counters de

Malzahar
Peores counters de

Malzahar
Conversely, if you are playing against Ryze, you should anticipate doing much better. Malzahar counters them with a solid win rate of 59.1%. Similarly, you can anticipate doing very well when battling Vladimir and Lucian. They have the next lowest winrates when countering Malzahar.
If you are interested in great champ pairings for your own teammates to enhance your chances of winning, look at our champion synergies.
Regardless of his chosen position, he does best when paired with Maestro Yi. This pairing usually raises his average win rate by a few percent. Nocturne and Trundle are also awesome champs to pair with.
To get the details and best Malzahar counter builds for a particular matchup, you can click the related row in the tables above. If you are looking for any Malzahar counters that are not shown here, you may click the button near the top of the page to view details on all potential counters.
To get Malzahar pairings and counters from a particular division rank, you may use the dropdown menu above to narrow the counters provided.
Cada semana revisamos millones de partidas de League of Legends sacadas directamente de los servidores de Riot. Analizamos los datos usando tanto estadísticas convencionales como algoritmos avanzados de aprendizaje automático para obtener los counters de Malzahar más precisos.
Guía para contrarrestar a

Malzahar
Si ves que Malzahar está usando Agarre Infernal sobre uno de tus aliados, lánzale un aturdimiento u otro tipo de desactivación para evitar que tu aliado quede inmovilizado.
Intenta aprender la mecánica de la Llamado del Vacío para evitar ser silenciado por ella.
La mayor parte del daño de Malzahar proviene de sus secuaces en lugar de su habilidad DoT. También lo ayudan a obtener mucho CS. Debes dar prioridad a matar a sus secuaces para contrarrestar a Malzahar.
Malzahar contrarresta a los campeones débiles en las peleas 1 contra 1, pero no es muy fuerte en las peleas de equipo. En particular, si te enfrentas a Malzahar y tienes menos del 50% de vida, deberías considerar huir. Su combo de daño y supresión probablemente le garantice una muerte si puede ponerse encima de ti.