Build para

Nunu y Willump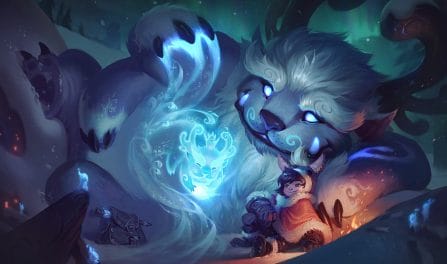 Las mejores runas, elementos y consejos para dominar a tu competencia
142,807 Nunu y Willump Builds Analizadas
Our Nunu y Willump builds come out of our analysis of 142.807 recently ranked Nunu y Willump matches. Only the top winrate Nunu y Willump builds that are also commonly used are suggested by us. Since we have so many games in our data, we are absolutely sure that we can produce the highest quality builds for u to help you win your next game!
Additionally, to view the top Nunu y Willump build for a different skill level, please pick a different one from the dropdown menu above. The ideal Nunu y Willump builds will change to capture that division's meta.
Los mejores items para

Nunu y Willump
The best items to use in your champ's build are: Égida de fuego solar,Máscara abisal, and Malla de espinas. Players who added these items in their setups had a much higher winrate than those who went for other Nunu y Willump builds.
Additionally, like our rune suggestions, you can also find great, focused, Nunu y Willump item builds a little further down for the particular enemy team setup you are battling in your ongoing game.
Nunu y Willump

Items para derrotar a los Comps de equipos enfocados
Las mejores runas para

Nunu y Willump

Reverberacción

Demoler

Condicionamiento

Inquebrantable

Celeridad

Caminar sobre agua
If you are playing a mixed enemy team composition, you should really consider grabbing yourself the Valor, and Brujería runes. In recent matches, he won the largest number of his rounds when built with these runes.
Although, if you are facing a more homogenous enemy team comp, such as an AD centric or a crowd control heavy team, you should instead browse further down to see the best Nunu y Willump runes to defeat your particular set of opponents.
Nunu y Willump

Runas para vencer a los equipos enemigos dedicados

Irrupción de fase

Capa del nimbo

Celeridad

Caminar sobre agua

Golpe bajo

Cazador voraz
Guía para jugar con

Nunu y Willump
Utiliza a Nunu para robar el farm del jungler enemigo matando al Centinela Azul o al Brambleback Rojo.
Asegúrate de lanzar Hervor de sangre a tu carry aliado para aumentar su daño y velocidad de ataque.