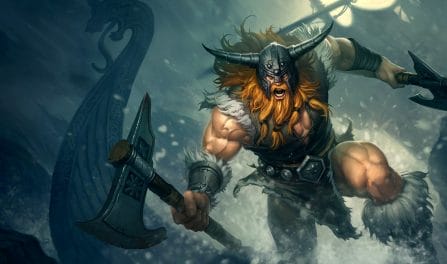 Los mejores campeones de LoL para sinergizar y contrarrestar a Olaf
71,210 Olaf Counters y emparejamientos analizados
To determine the ideal and worst counters for Olaf, we reviewed the scores of 71.210 recently finished, ranked LoL rounds. We determined which champs have the highest and lowest win rates versus him. Moreover, we calculated those few that are good teammates and who could help stop your champion from being beaten. Having evaluated so many rounds leaves us with a lot of confidence in our Olaf counter stats.
As shown above, Trundle is the strongest challenger for Olaf with a 56.9% win fraction against him. Close behind, Maestro Yi and Shaco are the next scariest counters to Olaf. These two champs have win rates of 55.7% and 53.9%, respectively. You should not bring him into a match where any of these other champs has been selected.
On the other hand, if you are facing off against Lee Sin, you probably should anticipate doing much better. Olaf counters them with a great win percentage of 52.5%. Likewise, you should expect to do very well when battling Diana and Ekko. These champs have the next worst win rates when countering Olaf.
If you are seeking the best champ synergies for your own allies to increase your victory rate more, take a look at our champion synergies below.
Regardless of his lane, he does best when alongside Veigar. This combination usually boosts his chances of winning by a few percent. Kayle and Xerath are also great champions to team up with.
If you are looking to find out more about a specific Olaf counter, along with the greatest builds to use in that pairing, please click the corresponding row in the tables above. If the particular Olaf counters you are trying to find are not found below, you can get all potential counters at the button above.
To filter the Olaf counters to a specific skill level only, select the desired skill level from the dropdown menu above. The given champ counters and pairings will be revised.
Cada semana revisamos millones de partidas de League of Legends sacadas directamente de los servidores de Riot. Analizamos los datos usando tanto estadísticas convencionales como algoritmos avanzados de aprendizaje automático para obtener los counters de Olaf más precisos.
Guía para contrarrestar a

Olaf
Olaf es más difícil de combatir cuanto más baja es su vida. Guarda tu daño explosivo para cuando esté bajo.
Olaf contrarresta a los equipos con mucha CC porque es inmune a los hechizos cuando activa Ragnarok, así que asegúrate de guardar tu CC hasta que expire.