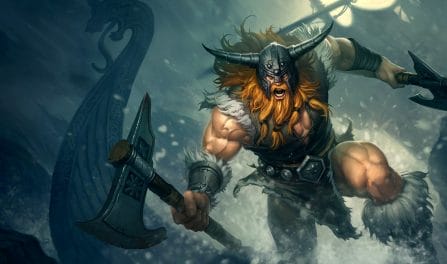 Los mejores campeones de LoL para sinergizar y contrarrestar a Olaf
42,366 Olaf Counters y emparejamientos analizados
To determine the most and least favorable counters for Olaf, we checked the scores of 42,366 recently played, ranked League of Legends games. We determined which champions have the best and worst win rates versus him. Furthermore, we found those rare champions that are exceptional companions and who could help stop him from being countered. Having studied so many games provides us a lot of certainty in our Olaf counter stats.
As can be seen above, Brand is the strongest to challenge Olaf with a 57.0% win fraction against him. In a close second and third place, Wukong and Trundle are the next greatest threats to Olaf. These two champs have win rates of 57.0% and 56.0%, respectively. You should avoid bringing him into a round where any of these other champions has already been chosen.
Conversely, if you're playing against Akshan, you probably should anticipate doing much better. Olaf counters them with a solid win rate of 55.0%. Equally, you should anticipate doing very well when fighting Zoe and Gangplank. These champs have the next poorest winrates when countering Olaf.
If you are interested in great champion pairings for your own allies to improve your victory rate more, look at our champ synergies above. Regardless of his chosen position, he does very well when on the same team as Anivia. This pairing typically enhances his chances of winning by 2.0%. Brand and Zyra are also great champions to team up with.
To examine the details and best Olaf counter builds about a particular matchup, you should click the related row in one of the tables above. If you are interested in specific Olaf counters not listed here, you may click the "All Matchups" button to browse them.
To see Olaf pairings and counters from one skill level, you may use the dropdown menu above to narrow the counters shown.
Cada semana revisamos millones de partidas de League of Legends sacadas directamente de los servidores de Riot. Analizamos los datos usando tanto estadísticas convencionales como algoritmos avanzados de aprendizaje automático para obtener los counters de Olaf más precisos.
Guía para contrarrestar a

Olaf
Olaf es más difícil de combatir cuanto más baja es su vida. Guarda tu daño explosivo para cuando esté bajo.
Olaf contrarresta a los equipos con mucha CC porque es inmune a los hechizos cuando activa Ragnarok, así que asegúrate de guardar tu CC hasta que expire.