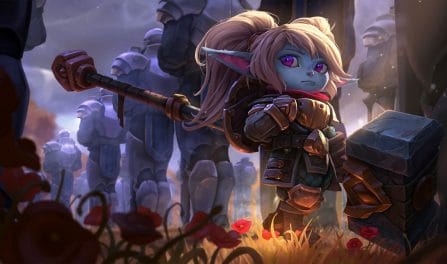 Las mejores runas, elementos y consejos para dominar a tu competencia
54,779 Poppy Builds Analizadas
Our Poppy builds come out of our evaluation of 54.779 recently ranked Poppy matches. Only the top winrate Poppy builds that are also in common use are advised by us. Because we have so many matches in our data, we are quite sure that we can generate high quality builds for y to help you win your next round!
Additionally, Poppy builds specific to a particular skill rank can be viewed by picking a different rank from the dropdown menu located above. The suggested Poppy build shown will be specific to that tier's meta.
Los mejores items para

Poppy
The most important items to include in your champ's build are: Desgarrador divino,Máscara abisal, and Coraza del muerto. Players who included these pieces in their gear had a higher win rate than players who used other Poppy builds.
Moreover, as with our rune setups, you can also get quality, dedicated, Poppy item builds farther down for the specific enemy team setup you are facing in your current match.
Poppy

Items para derrotar a los Comps de equipos enfocados
Las mejores runas para

Poppy

Electrocutar

Golpe bajo

Colección de globos oculares

Cazador incesante

Celeridad

Caminar sobre agua
If you are trying to beat a varied enemy team arrangement, you should really consider grabbing yourself the Dominación, and Brujería runes. In recent matches, she won the largest percentage of her rounds when equipped with these runes.
Yet, if you are trying to beat a singular enemy team composition, such as an AD centric or a CC centric team, you should instead look a little below to see the best Poppy runes to win your particular round.
Poppy

Runas para vencer a los equipos enemigos dedicados

Electrocutar

Impacto repentino

Colección de globos oculares

Cazador incesante

Celeridad

Caminar sobre agua
Guía para jugar con

Poppy
El Impacto de martillo inflige un gran daño explosivo. Úsalo libremente en el carril para evitar que tu oponente pegue en último lugar.
Poppy tiene un buen potencial de control de multitudes