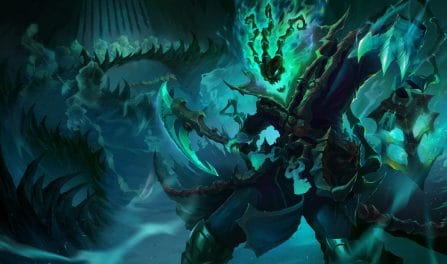 Las mejores runas, elementos y consejos para dominar a tu competencia
165,766 Thresh Builds Analizadas
Los mejores items para

Thresh
The most essential items to incorporate into your Thresh build are: Locket of the Iron Solari, Spirit Visage, Thornmail, and Redemption. Additionally, similar to our rune builds, you can also find great, focused, Thresh item builds farther down for the specific enemy team comp you are facing in your ongoing game. Those who added these pieces in their gear had a higher winrate than those who worked towards other builds for Thresh.
Thresh

Items para derrotar a los Comps de equipos enfocados
Las mejores runas para

Thresh

Depredador

Sabor a sangre

Guardián zombi

Cazador incesante

Fuente de vida

Fuerzas renovadas
If you are trying to beat a well-mixed enemy team comp, you should strongly consider getting yourself the Predator, Taste of Blood, Zombie Ward, Relentless Hunter, Font of Life, and Second Wind runes. In recent games, he won the greatest fraction of his games when using these runes. However, if you are playing a more single focused enemy team composition, such as an AP focused or a tank centric team, you should instead look a little below to get the best Thresh runes to win your particular match.
Thresh

Runas para vencer a los equipos enemigos dedicados

Reverberacción

Demoler

Revestimiento de huesos

Sobrecrecimiento

Mercado del futuro

Perspicacia cósmica
Guía para jugar con

Thresh
Thresh es principalmente un apoyo, pero sobresale en la interrupción del farm del carry enemigo mediante el spam de Sentencia de muerte seguido de Despellejar.
Debes perfeccionar el momento del Pasaje Oscuro para salvar a tus aliados. Pueden protegerse durante las peleas y / o escapar si es necesario.
Puedes ayudar más a tu equipo centrando tu build de Thresh en la armadura y la resistencia mágica. Thresh a menudo será el primero en enfrentarse al equipo enemigo durante una pelea en equipo. A menudo serás objetivo
We established our Thresh build suggestions by analyzing 165,766 recently ranked LoL rounds with him in them. We only advise the best winrate Thresh builds that have been used by ranked LoL players enough times for us to reccomend them. With so many games in our dataset, we are very confident in our provided builds.
Additionally, to view the best Thresh build from a different skill rank, you can select a different skill tier from the dropdown above. The proposed Thresh builds will change to reflect that skill level's meta.