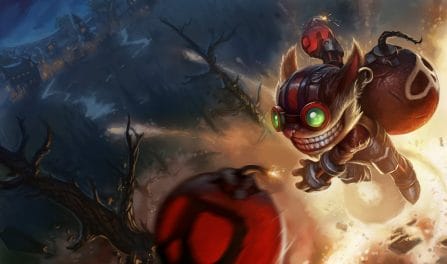 Las mejores runas, elementos y consejos para dominar a tu competencia
128,160 Ziggs Builds Analizadas
Los mejores items para

Ziggs
The most essential items to use in your Ziggs build include: Liandry's Anguish, Seraph's Embrace, Rabadon's Deathcap, and Banshee's Veil. Moreover, as with our rune recommendations, you can also find great, dedicated, Ziggs item builds further down for the particular enemy team composition you are fighting in your ongoing match. Those who included these items in their setups had a better win rate than those who tried for other Ziggs builds.
Ziggs

Items para derrotar a los Comps de equipos enfocados
Las mejores runas para

Ziggs

Cometa arcano

Banda de maná

Trascendencia

Piroláser

Tónico de distorsión temporal

Calzado mágico
If you are fighting a varied enemy team composition, you should strongly consider getting him the Arcane Comet, Manaflow Band, Absolute Focus, Gathering Storm, Perfect Timing, and Biscuit Delivery runes. In recent games, he won the largest fraction of his matches when equiped with these runes. However, if you are fighting a more single focused enemy team comp, such as an AD heavy or a CC centric team, you should instead scrollbrowse a little below to get the best Ziggs runes to win your particular round.
Ziggs

Runas para vencer a los equipos enemigos dedicados

Cometa arcano

Banda de maná

Trascendencia

Se avecina tormenta

Entrega de galletas

Tónico de distorsión temporal
Guía para jugar con

Ziggs
En LoL, Ziggs puede utilizar Campo de Minas Hexplosivas para ralentizar a sus enemigos y preparar otras habilidades/combos.
Ziggs tiene mucho alcance. Con su Q, puedes golpear y empujar por última vez desde más allá del alcance de cualquier campeón enemigo. No te pongas en peligro innecesario. Ataca desde la distancia. Si tu enemigo se acerca demasiado, puedes ralentizarlo o lanzarlo con tus otras habilidades.
Guarda la Carga Concentrada para escapar de los enemigos o perseguirlos. También puedes usarlo para evitar que tu oponente de carril escape de la emboscada de tu equipo. Cuando utilices la Carga Concentrada para ayudar a derribar una torre, asegúrate de no usarla demasiado pronto, o se desperdiciará. Hay un límite muy estricto para infligir su daño adicional.
Our Ziggs builds result from our examination of 128,160 recently ranked Ziggs matches. Only the best win rate Ziggs builds that are also in common use are advised by us. Because we have so many rounds in our dataset, we are confident that we can generate the highest quality builds for Ziggs to help you win your next game!
Additionally, to see the best Ziggs build from a different skill rank, you can pick a different skill tier from the dropdown above. The ideal Ziggs builds will update to characterize that skill level's meta.