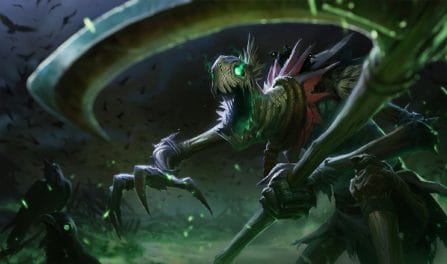 As melhores runas, itens e dicas para dominar seus inimigos
150,001 builds de Fiddlesticks analisadas
Our Fiddlesticks builds come out of our examination of 150.001 recently ranked Fiddlesticks games. Only the highest winrate Fiddlesticks builds that are also commonly used are suggested by us. Because we have so many rounds in our database, we are very confident that we can provide the highest quality builds for k to help you win your next game!
Additionally, to view the best Fiddlesticks build designed for a different skill division, please choose a different skill tier from the dropdown above. The recommended champion builds will update to capture that skill level's meta.
Melhores itens para build de

Fiddlesticks
The most important items to incorporate into your champion's build are: Explocinturão Hextec,Capuz da Morte de Rabadon, and Ampulheta de Zhonya. Players who added these items in their gear had a significantly better win rate than those who tried for other Fiddlesticks builds.
Additionally, similar to our rune advice, you can also get quality, focused, Fiddlesticks item builds farther down for the specific enemy team comp you are fighting in your next game.
Fiddlesticks

Items para derrotar composições de time específicas
Melhores runas para

Fiddlesticks

Eletrocutar

Golpe Desleal

Globos Oculares

Caça Suprema

Triunfo

Golpe de Misericórdia
If you are trying to beat a mixed enemy team arrangement, you should strongly consider getting yourself the Dominação, and Precisão runes. In recent games, he won the largest percentage of his rounds when built with these runes.
Although, if you are facing a more homogenous enemy team comp, such as an AD heavy or a CC centric team, you should instead browse below to get the best Fiddlesticks runes to defeat your particular set of opponents.
Fiddlesticks

Runas para derrotar formações de time específicas

Eletrocutar

Golpe Desleal

Globos Oculares

Caça Suprema

Triunfo

Golpe de Misericórdia
Guia para jogar com

Fiddlesticks
Ventania Sombria pode ser usada em campos neutros que possuem mais de 1 monstro porque ela salta em múltiplos inimigos.
Aterrorizar pode ser usado para desabilitar campeões frágeis, e então Ventania Sombria pode silenciá-los.