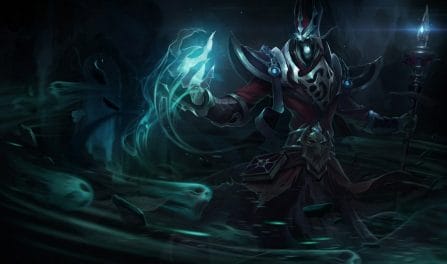 As melhores runas, itens e dicas para dominar seus inimigos
52,389 builds de Karthus analisadas
We set our Karthus build recommendations by analyzing 52.389 recently ranked League of Legends matches with him in them. We only recommend the top winrate Karthus builds that were built by ranked LoL players enough times for us to advise them. With so many rounds in our data, we are quite confident in our suggested builds.
Additionally, to view Karthus builds tailored to a particular division, choose your desired division from the dropdown menu found above. If you change the selection, the ideal Karthus build given will capture that tier's meta gameplay.
Melhores itens para build de

Karthus
The most critical items to include in your champ's build include: Angústia de Liandry,Capuz da Morte de Rabadon, and Ampulheta de Zhonya. Players who included these items in their gear had a better winrate than players who went for other builds for Karthus.
Yet, as with our rune recommendations, you can also get quality, focused, Karthus item builds just below for the specific enemy team composition you are fighting in your current match.
Karthus

Items para derrotar composições de time específicas
Melhores runas para

Karthus

Colheita Sombria

Gosto de Sangue

Globos Oculares

Caça Voraz

Presença de Espírito

Golpe de Misericórdia
If you are facing a well-mixed enemy team comp, you should really consider grabbing Karthus the Dominação, and Precisão runes. In recent matches, he won the largest number of his games when using these runes.
However, if you are battling a different enemy team comp, such as an AP focused or a tank centric team, you should instead scroll further down to get the best Karthus runes to defeat your particular combination of foes.
Karthus

Runas para derrotar formações de time específicas

Colheita Sombria

Gosto de Sangue

Globos Oculares

Caça Voraz

Presença de Espírito

Até a Morte
Guia para jogar com

Karthus
Devastar é uma skillshot poderosa que necessita de prática para ser aperfeiçoada. Vale a pena pois pode lhe dar uma significante vantagem na mid lane.
Barreira da Dor pode ser usada para dar lentidão a inimigos durante teamfights ou quando alguém ajudar gankar a sua lane.