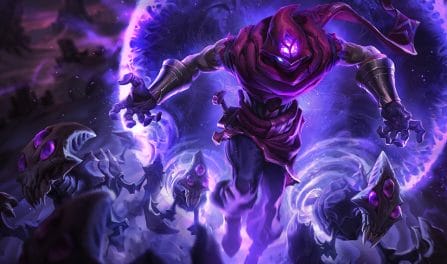 Estatísticas de Campeão e detalhamento de metagame do LoL
95,573 partidas com Malzahar analisadas
To generate these Malzahar statistics, we reviewed 95,573 recent ranked LoL games with him chosen. MOBA Champion downloads ranked match results directly from Riot's servers. This gives us great confidence in our Malzahar stats. Across all games, Malzahar did perform very well, with an above average win rate of 52.0%.
In the current meta, Malzahar is somewhat popular. He has been selected in 3.2% of recently ranked matches. Hardly anyone sees him as a threat. He has only been banned in about 3.6% of LoL games.
If you are looking for a dominating damage dealer, then you should maybe consider this champion. He has the 32nd highest kill count in the game among all mids. (34 champs in total are most commonly played in the mid position.) Additionally, he has a relatively typical average death rate (6 deaths; 28th out of all mids). Furthermore, Malzahar's KDA is usually average with an average KDA ratio of 2.2 as well as 8 assists per match. This is the 7th best assist count amongst mid champions.
Taxa de vitória de

Malzahar

periodicamente
Our calculated overall Malzahar win rate is the 2nd highest amongst mids. He is most powerful in the early phase of the game with a 52.3% win rate in that phase. In comparison, he has a 49.2% win rate in the late phase and a 52.0% winrate overall. There is a moderate difference between these Malzahar win rates (3.0%). This sizeable difference indicates that his power spikes and fades in different phases of the round. Plan accordingly.
Estatísticas de posição de

Malzahar
Malzahar

Estatísticas e meta
Malzahar is most commonly played in the mid position. This occurs in 89% of his games. Yet, top Malzahar has the highest win rate (53.4%) of all positions but is less popular of a position (played 7% of the time). At this time, Malzahar's meta game is centered around dealing damage. In particular, his build should primarily be focused on magical damage. Furthermore, he is a decent support champion. Dealing physical damage is the least important part of Malzahar's kit.
If you are not comfortable with Malzahar's abilities and gameplay, you may find it difficult trying him out for the first time. Many players believe him to not be a tough champ to learn. Malzahar mostly causes magical damage (95% of his total damage). He doesn't deal a significant amount of physical damage and should not be played as a hybrid damage dealer.
Malzahar deals a great deal of damage during a regular ranked match (20,177 damage). You should focus on building him as a damage dealing champion to crush your foes.
Estilo de jogo de

Malzahar
Estatísticas base de

Malzahar
Resistência mágica
30 - 38.5
A zealous seer dedicated to the unification of all life, Malzahar truly believes the newly emergent Void to be the path to Runeterra's salvation. In the desert wastes of Shurima, he followed the voices that whispered in his mind, all the way to ancient...
Analisamos milhões de partidas do League of Legends extraídas diretamente dos servidores da Riot semanalmente e processamos os dados usando algoritmos avançados para oferecer as estatísticas mais precisas de Malzahar on-line. Os dados são analisados por tier, de modo que você possa encontrar as taxas de vitória e outras estatísticas mais relevantes de Malzahar.