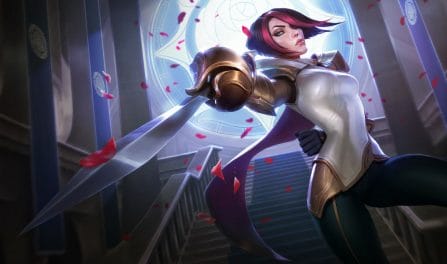 192,097 无双剑姬 Matches Analyzed
These champion statistics were computed using 192,097 recently played, ranked 无双剑姬 games. We pull competitive match data directly from Riot's own database. Having so many League matches to analyze gives us great confidence in our capability to provide accurate 无双剑姬 statistics. She did do a great job in recent rounds. She racked up an average win rate of 50.8%.
无双剑姬 has been used a lot in the latest ranked League of Legends rounds. In the current meta, her popularity is 6.1%. Some players see her as a danger. She has been banned in approximately 9.9% of League games.
Thanks to 无双剑姬's K/D/A and utility, she has a fairly average overall win rate. She does very well in the late game, with a winrate of NaN% in that phase. Unfortunately, she does very poorly in the late game, where 无双剑姬's win rate is NaN%., The difference between her best and worst game phases is a large NaN%. This large difference makes it clear that her power spikes and fades in different parts of the game. Plan accordingly.
无双剑姬 is played mostly in the top position. This happens in [object Object]% of her rounds. Top 无双剑姬 also has the highest win rate ([object Object]%) of all positions. At this time, 无双剑姬's meta game is focused on dealing damage. In particular, her gameplay should mostly be focused on physical damage. Dealing magical damage is the least significant part of 无双剑姬's kit.
If you are not used to her skills and gameplay, you won't find it difficult picking her up for the first time. Many competitors believe her to not be a challenging champ to pick up. 无双剑姬 mostly deals physical damage (66% of her total damage). She doesn't deal much of other damage types and should not be played as hybrid damage dealer..
无双剑姬 deals a good amount of damage during a regular ranked match (18,809 damage). You could focus on developing her as a damage dealing champion to smash your foes.
菲奥娜是全瓦洛兰最可怕的决斗家。她以雷厉风行、狡黠聪慧闻名于世,同样著名的还有她舞弄自己蓝钢佩剑的矫健。菲奥娜出生在德玛西亚王国的劳伦特家族,她从父亲的手中接管了家业,并在一场丑闻风波中将家族拯救于灭亡的边缘。虽然劳伦特家威严不再,但菲奥娜却一直在不懈地努力,希望重振家族荣耀,让劳伦特这个名字重回德玛西亚名望贵族之列。
If you are looking for a dominating carry, then you should definitely consider this champion. She has one of the absolute best kill counts in the game among all champions. Additionally, she has a fairly typical average champion death count (5.9 deaths). Moreover, 无双剑姬's KDA is usually low with an average KDA ratio of 1.8 as well as 4.4 assists per round.
We comb through millions of League of Legends matches pulled directly from Riot's servers each week and analyze the data using advanced algorithms to bring you the most accurate 无双剑姬 stats online. We analyze the data by tier, so you can find the most relevant 无双剑姬 win rate and other stats.