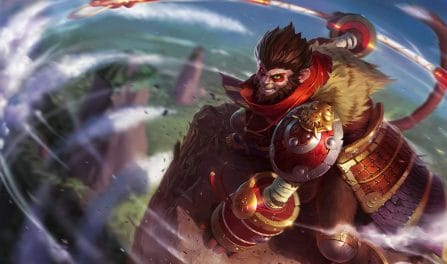 130,636 齐天大圣 Counters and Matchups Analyzed
To select the most and least advantageous counters for 齐天大圣, we reviewed the scores of 130,636 recently finished, ranked League games. We found which champions have the highest and lowest win rates versus him. Additionally, we isolated those rare champions that are ideal allies and who could help prevent you from being beaten. Having checked so many games leaves us with complete confidence in our conclusions.
As can be seen above, 牧魂人 is the best counter to 齐天大圣 with a 52.0% win fraction against him. Close behind, 武器大师 and 德玛西亚之力 are the next biggest counters to 齐天大圣. They have win rates of 51.9% and 51.5%, respectively. You should not bring him into a round where any of these champions has already been picked.
On the other hand, if you are battling against 灵罗娃娃, you probably should expect to do much better. 齐天大圣 counters them with a solid win percentage of 56.2%. Similarly, you can anticipate doing very well when facing 诺克萨斯之手 and 刀锋舞者. They have the next poorest winrates when trying to counter 齐天大圣.
If you are looking for the best champ pairings for your own allies to help boost your winrate even further, glance at the 齐天大圣 synergies below.
Regardless of his chosen position, he does very well when paired with 疾风剑豪. This pairing typically enhances his average win rate by a few percent. 复仇焰魂 and 德邦总管 are also superb champs to team up with.
To get the details and best 齐天大圣 counter builds for a specific matchup, you can click the related row in one of the tables above. If you want any 齐天大圣 counters that aren't displayed here, you can click the "All Matchups" button to view details on all potential counters.
To view 齐天大圣 pairings and counters from a particular division rank, you can use the dropdown menu above to filter the counter stats shown.
我们每周直接从拳头公司的服务器搜集数百万局比赛数据。用经典的统计方法和先进的机器学习算法,归纳出最准确最符合当前版本的齐天大圣的克制和搭配关系。