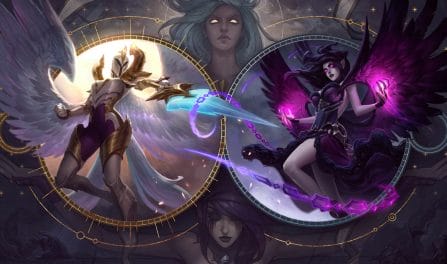 358,536 堕落天使 Matches Analyzed
To generate these 堕落天使 statistics, we reviewed 358,536 recent competitive LoL rounds with her chosen. MOBA Champion downloads ranked game results directly from Riot's servers. This gives us great confidence in our 堕落天使 stats. Across all games, 堕落天使 did perform very well, with an average win rate of 50.5%.
In the current meta, 堕落天使 is incredibly popular. She has been selected in 12.9% of recently ranked games. She is very often banned during champion select. Obviously, most players see her as a major threat. In the latest ranked rounds, 堕落天使 was banned 31.2% of the time.
Because of 堕落天使's K/D/A and utility, she has a fairly average overall win rate. She does very well in the late game, with a winrate of NaN% in that phase. Unfortunately, she does very poorly in the late game, where 堕落天使's winrate is NaN%., The difference between her best and worst game phases is a large NaN%. This sizeable difference makes it clear that her power spikes and wanes in different parts of the round. Plan well.
You will see her typically played in the support position. However, that is not the best position for her. The top win rate position for 堕落天使 is middle ([object Object]%). At this time, 堕落天使's meta game is focused on dealing damage. In particular, her kit should mostly be focused on magical damage. Furthermore, she is a pretty good tank champ. Dealing physical damage is the least significant part of 堕落天使's build.
You should anticipate having to spend only a little bit of time practicing and learning to get good at playing 堕落天使. Most League players think she is an easy champ to use. 堕落天使 mostly deals magic damage (90% of her total damage). She doesn't deal a lot of other damage types and should not be considered a hybrid damage dealer..
堕落天使 deals a good amount of damage over the course of a regular ranked game (14,423 damage). You could focus on developing her as a powerful champ to destroy your enemies.
在天界与凡间双重本性的夹缝中左右为难的莫甘娜,束缚了自己的双翼并拥抱了人性,还将自己的痛苦和怨恨施加给那些失信和堕落之人。她抗拒一切在她眼中不公正的法律和传统,并从德玛西亚的黑影中投出保护的盾牌和暗焰的锁链,在别人想要打压的暗处为真理而战。最重要的是,莫甘娜坚信,即使是被放逐、被遗弃的人,也可能有朝一日东山再起。
She is an average damage dealer in the game with 3.4 kills on average each game. That is one of the lowest kill counts amongst all supports. 'Moreover, she has a somewhat above average death rate with an average of 6.2 deaths per League of Legends match. Furthermore, 堕落天使 has a high KDA ratio (2.5) with 12.2 assists.
We comb through millions of League of Legends matches pulled directly from Riot's servers each week and analyze the data using advanced algorithms to bring you the most accurate 堕落天使 stats online. We analyze the data by tier, so you can find the most relevant 堕落天使 win rate and other stats.