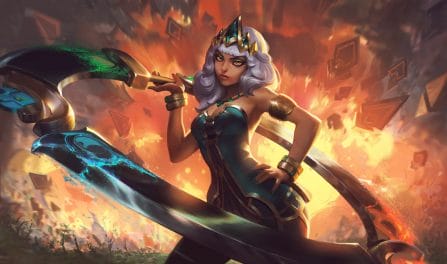 113,633 元素女皇 Matches Analyzed
These champion statistics were prepared using 113,633 recently played, ranked 元素女皇 matches. MOBA Champion pulls ranked match summaries directly from Riot's own database. Having so many League of Legends rounds to evaluate gives us great confidence in our capability to provide precise 元素女皇 stats. She did not do a great job in recent rounds. She racked up a poor win rate of 47.9%.
元素女皇 has been used only occasionally in recent ranked LoL rounds. In the current meta, her popularity is 3.9%. Hardly anyone sees her as a threat. She has only been banned in about 2.3% of LoL matches.
Because of 元素女皇's K/D/A and utility, she has a somewhat poor overall win rate. She does best in the late game, with a winrate of NaN% in that phase. Unfortunately, she does worst in the late game, where 元素女皇's winrate is NaN%., The difference between her best and worst game phases is a large NaN%. This large difference shows us that her power spikes and fades in different parts of the match. Plan well.
You can find her typically played in the middle position. The highest win rate position for 元素女皇 is middle ([object Object]%). Currently, 元素女皇's meta game is centered around dealing damage. Specifically, her gameplay should primarily be centered around magical damage. Dealing physical damage is the least significant part of 元素女皇's build.
You should anticipate having to spend a significant amount of time practicing and learning to get good with 元素女皇. Most League gamers think she is a difficult champion to main. 元素女皇 primarily deals physical damage (88% of her total damage). She doesn't deal much of other damage types and should not be considered a hybrid damage dealer..
元素女皇 deals a lot of damage during a regular ranked match (20,092 damage). You should focus on building her as a damage dealing champion to smash your enemies.
在丛林都市以绪奥肯中,奇亚娜谋划着自己荣登育恩塔尔塔座的无情之路。作为父母的末位继承人,她以前无古人的元素魔法技艺,傲视所有挡在面前的人。这片大地服从着奇亚娜的每一道指令,她认为自己是以绪奥肯历史上最伟大的元素使——就凭这点,她理应执掌的不仅是一座城邦,而是一个帝国。
If you are looking for a dominating damage dealer, then you should definitely consider this champion. She has one of the absolute best kill counts on the Rift amongst other champs. Furthermore, she has a relatively high average champion death rate (7 deaths). Moreover, 元素女皇's KDA is typically low with an average KDA ratio of 2.0 as well as 5.7 assists per round.
We comb through millions of League of Legends matches pulled directly from Riot's servers each week and analyze the data using advanced algorithms to bring you the most accurate 元素女皇 stats online. We analyze the data by tier, so you can find the most relevant 元素女皇 win rate and other stats.