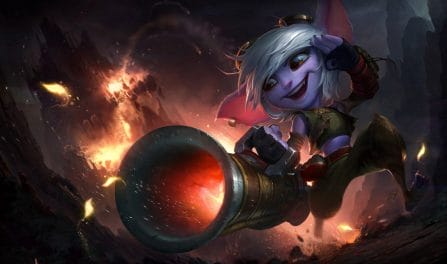 423,931 麦林炮手 Matches Analyzed
These champion stats were computed using 423,931 recently played, ranked 麦林炮手 matches. MOBA Champion pulls competitive match results directly from Riot's own database. Having so many League of Legends rounds to analyze gives us a lot of confidence in our ability to provide accurate 麦林炮手 statistics. Across all matches, 麦林炮手 did do very well, with an average win rate of 50.4%.
麦林炮手 has been used a lot in recent ranked LoL games. In the current meta, her popularity is 14.3%. A lot of players see her as a threat. She has been banned in approximately 12.1% of LoL matches.
Thanks to 麦林炮手's K/D/A and utility, she has a fairly average overall win rate. She does very well in the late game, with a winrate of NaN% in that phase. Unfortunately, she does very poorly in the late game, where 麦林炮手's win rate is NaN%., The difference between her best and worst game phases is a large NaN%. This large difference makes it clear that her power spikes and wanes in different parts of the game. Plan well.
麦林炮手 is played mostly in the bottom position. This happens in [object Object]% of her games. Yet, bottom 麦林炮手 has the highest win rate ([object Object]%) of all positions but is less popular of a position (played [object Object]% of the time). Currently, 麦林炮手's meta game is focused on dealing damage. Specifically, her build should mostly be focused on physical damage. Furthermore, she is a pretty good magical damage dealer champ. Supporting others and crowd control are the least important part of 麦林炮手's gameplay.
If you are not used to her skills and gameplay, you won't find it difficult trying her out for the first time. Many players believe her to not be a challenging champion to learn. 麦林炮手 mostly causes physical damage (79% of her total damage). She doesn't deal a lot of other damage types and should not be considered a hybrid damage dealer..
麦林炮手 deals a good amount of damage during a regular ranked round (17,535 damage). You may want to focus on building her as a powerful champion to smash your enemies.
许多约德尔人都将自己的精力花在探索发现、发明创造或者搞恶作剧上,然而崔丝塔娜则一心向往伟大勇者们的冒险故事。她听闻了太多关于符文之地的事,关于不同的势力、关于庞大的战争。崔丝塔娜相信自己也有资格成为传奇。她首次踏进了这个世界,拿着她信赖的加农炮"轰隆",用坚定的勇气和乐观精神跳进战场。
If you are looking for a dominating carry, then you should definitely consider this champ. She has one of the absolute best kill counts on the Rift amongst all champs. 'Moreover, she has a fairly typical death rate with an average of 5.9 deaths per League of Legends match. Furthermore, 麦林炮手's KDA is typically high with an average KDA ratio of 2.3 as well as 6.2 assists per game.
We comb through millions of League of Legends matches pulled directly from Riot's servers each week and analyze the data using advanced algorithms to bring you the most accurate 麦林炮手 stats online. We analyze the data by tier, so you can find the most relevant 麦林炮手 win rate and other stats.