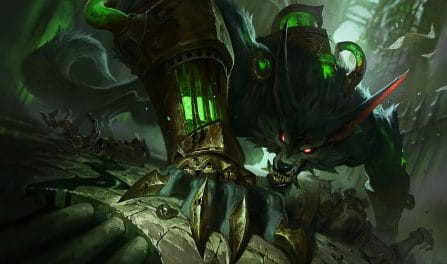 266,100 祖安怒兽 Matches Analyzed
These champ stats were determined using 266,100 recently played, ranked 祖安怒兽 games. MOBA Champion pulls competitive match results directly from Riot's own database. Having a large number of LoL matches to analyze gives us a lot of confidence in our ability to give you precise 祖安怒兽 statistics. Across all games, 祖安怒兽 did perform very well, with an average win rate of 50.8%.
祖安怒兽 has been picked a lot in the latest ranked League of Legends games. In the current meta, his popularity is 9.6%. Some players see him as a threat. He has been banned in approximately 6% of LoL games.
Thanks to 祖安怒兽's K/D/A and utility, he has a fairly average overall win rate. He does very well in the late game, with a winrate of NaN% in that phase. Unfortunately, he does very poorly in the late game, where 祖安怒兽's winrate is NaN%., The difference between his best and worst game phases is a large NaN%. This large difference indicates that his power spikes and wanes in different parts of the game. Prepare well.
You can find him typically laning in the jungle position. However, that is not the best position for him. The best win rate position for 祖安怒兽 is top ([object Object]%). Currently, 祖安怒兽's meta game is centered around dealing damage. In particular, his gameplay should primarily be focused on physical damage. Furthermore, he is a pretty good tank champ. Dealing magical damage is the least significant part of 祖安怒兽's kit.
You should anticipate having to spend only a little bit of time practicing and learning to pick up 祖安怒兽. Many LoL gamers think he is one of the most basic champ to main. 祖安怒兽 mostly deals magic damage (54% of his total damage). He also deals a significant amount of physical damage.
祖安怒兽 deals a good amount of damage in a typical game (14,658 damage). You could focus on building him as a powerful champ to smash your opponents.
沃里克是一头游猎于祖安灰色小巷的怪兽。他的身体接受了痛苦的实验并发生了变异,融合了精密复杂的储液舱和药泵,向他的血管中注入炼金合成的愤怒激素。他从阴影中一跃而出,猎杀那些在城市最深处肆虐的罪犯。沃里克会被鲜血吸引,血腥味让他失去理智。没有哪个沾血的人能够逃过他的猎杀。
If you are looking for a dominating damage dealer, then you should definitely consider this champion. He has one of the absolute best kill rates in the game among other champions. 'Moreover, he has a somewhat above average death total with an average of 6.7 deaths per LoL match. Additionally, 祖安怒兽 has an average KDA ratio (2.2) with 7.6 assists.
We comb through millions of League of Legends matches pulled directly from Riot's servers each week and analyze the data using advanced algorithms to bring you the most accurate 祖安怒兽 stats online. We analyze the data by tier, so you can find the most relevant 祖安怒兽 win rate and other stats.