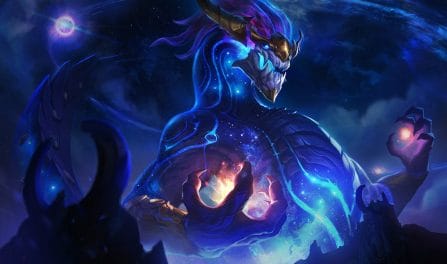 Die besten Runen, Gegenstände und Tipps, um die Konkurrenz zu dominieren
22,625 Aurelion Sol Builds analysiert
We calculated our Aurelion Sol build guidance by examining 22.625 recently ranked LoL rounds with him in them. We only propose the highest winrate Aurelion Sol builds that were built by ranked gamers enough times for us to propose them. With so many rounds in our dataset, we are confident in our recommended builds.
Additionally, Aurelion Sol builds dedicated to a particular skill division can be displayed by selecting a different tier from the dropdown menu found above. The suggested Aurelion Sol build shown will be focused on that tier's meta.
Beste Gegenstände für dein

Aurelion Sol

Build
The most important items to use in your champion's build are: Liandrys Leid,Rylais Kristallzepter, and Zhonyas Stundenglas. Those who included these items in their kits had a greater winrate than those who went for other builds for Aurelion Sol.
Moreover, as with our rune advice, you can also get quality, dedicated, Aurelion Sol item builds a little further down for the particular enemy team comp you are playing in your ongoing match.
Aurelion Sol

Gegenstände, um gezielte Teamkämpfe zu besiegen
Beste

Aurelion Sol

Runen für dein nächstes Build

Elektrisieren

Geschmack von Blut

Argus' Vermächtnis

Erbarmungsloser Jäger

Kekslieferung

Tonikum der Zeitkrümmung
If you are fighting a mixed enemy team composition, you should really consider grabbing him the Dominanz, and Inspiration runes. In recent matches, he won the largest fraction of his rounds when equipped with these runes.
However, if you are trying to beat a more homogenous enemy team comp, such as an AP focused or a tank focused team, you should instead browse a little down to view the best Aurelion Sol runes to defeat your particular enemy team.
Aurelion Sol

Runen, um engagierte gegnerische Teams zu schlagen

Elektrisieren

Geschmack von Blut

Argus' Vermächtnis

Gefräßiger Jäger

Kekslieferung

Tonikum der Zeitkrümmung