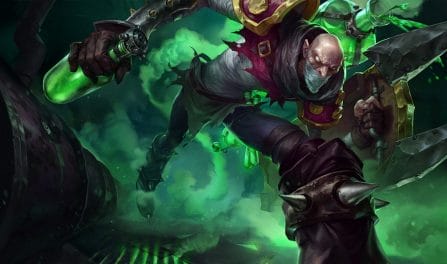 Die besten Runen, Gegenstände und Tipps, um die Konkurrenz zu dominieren
42,105 Singed Builds analysiert
Beste Gegenstände für dein

Singed

Build
The best items to use in your Singed build include: Imperial Mandate, Thornmail, Rylai's Crystal Scepter, and Demonic Embrace. Additionally, as with our rune setups, you can also find great, dedicated, Singed item builds farther down for the specific enemy team comp you are facing in your ongoing match. Players who added these pieces in their setups had a higher winrate than players who utilized other builds for Singed.
Singed

Gegenstände, um gezielte Teamkämpfe zu besiegen
Beste

Singed

Runen für dein nächstes Build

Eroberer

Triumph

Legende: Zähigkeit

Letztes Gefecht

Magisches Schuhwerk

Kekslieferung
If you are facing a mixed enemy team comp, you should really consider grabbing yourself the Conqueror, Triumph, Legend: Tenacity, Last Stand, Magical Footwear, and Biscuit Delivery runes. In recent matches, he won the largest percentage of his matches when built with these runes. However, if you are battling a more homogenous enemy team composition, such as an AP centric or a CC centric team, you should instead scrollbrowse further down to get the best Singed runes to win your particular round.
Singed

Runen, um engagierte gegnerische Teams zu schlagen

Räuber

Geschmack von Blut

Argus' Vermächtnis

Gefräßiger Jäger

Flinkheit

Aufziehender Sturm
Our Singed builds come from our analysis of 42,105 recently ranked Singed matches. Only the highest win rate Singed builds that are also commonly used are advised by us. Since we have so many games in our data, we are quite sure that we can show you the highest quality builds for Singed to help ensure you win your next match!
Additionally, to see the best Singed build for a different skill rank, you can choose a different skill tier from the dropdown above. The calculated Singed builds will update to reflect that skill level's meta.