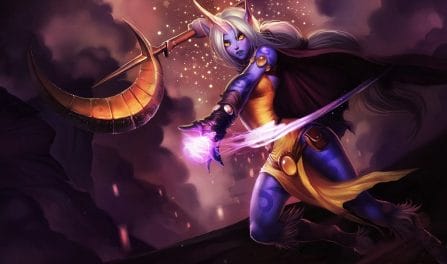 Die besten Runen, Gegenstände und Tipps, um die Konkurrenz zu dominieren
91,289 Soraka Builds analysiert
Beste Gegenstände für dein

Soraka

Build
The best items to incorporate into your Soraka build include: Shurelya's Battlesong, Warmog's Armor, Ardent Censer, and Staff of Flowing Water. Yet, like our rune builds, you can also find quality, dedicated, Soraka item builds further down for the specific enemy team comp you are playing in your ongoing match. Players who included these pieces in their setups had a much better win rate than those who tried for other builds for Soraka.
Soraka

Gegenstände, um gezielte Teamkämpfe zu besiegen
Beste

Soraka

Runen für dein nächstes Build

Bewahrer

Lebensquelle

Aufschwung

Frische

Flinkheit

Manafluss
If you are facing a varied enemy team composition, you should strongly consider getting Soraka the Guardian, Font of Life, Second Wind, Revitalize, Celerity, and Manaflow Band runes. In recent games, she won the greatest fraction of her games when built with these runes. Yet, if you are facing a different enemy team composition, such as an AP focused or a CC centric team, you should instead scrollbrowse below to view the best Soraka runes to win your particular round.
Soraka

Runen, um engagierte gegnerische Teams zu schlagen

Benefee-Beschwörung

Manafluss

Flinkheit

Hitzewelle

Aufschwung

Frische
Our Soraka builds result from our examination of 91,289 recently ranked Soraka rounds. Only the top win rate Soraka builds that are also in common use are suggested by us. Because we have so many matches in our database, we are sure that we can generate high quality builds for Soraka to help you win your next game!
Additionally, to view Soraka builds dedicated to a unique division, pick a different division from the dropdown menu above. If you change the selection, the proposed Soraka build given will capture that division's meta game.