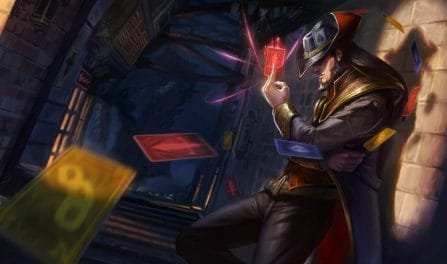 Die besten Runen, Gegenstände und Tipps, um die Konkurrenz zu dominieren
49,118 Twisted Fate Builds analysiert
Beste Gegenstände für dein

Twisted Fate

Build
The best items to use in your Twisted Fate build are: Liandry's Anguish, Lich Bane, Void Staff, and Zhonya's Hourglass. Yet, like our rune suggestions, you can also find quality, dedicated, Twisted Fate item builds farther down for the particular enemy team comp you are fighting in your ongoing game. Those who added these items in their builds had a better win rate than those who worked towards other builds for Twisted Fate.
Twisted Fate

Gegenstände, um gezielte Teamkämpfe zu besiegen
Beste

Twisted Fate

Runen für dein nächstes Build

Dunkle Seelenernte

Perfider Trick

Argus' Vermächtnis

Erbarmungsloser Jäger

Vasallenauflöser

Anziehungskraft
If you are battling a mixed enemy team comp, you should really consider grabbing him the Dark Harvest, Cheap Shot, Eyeball Collection, Relentless Hunter, Minion Dematerializer, and Approach Velocity runes. In recent matches, he won the largest fraction of his rounds when using these runes. Yet, if you are trying to beat a more single focused enemy team composition, such as an AP focused or a crowd control heavy team, you should instead scrollbrowse a little down to see the best Twisted Fate runes to defeat your particular combination of foes.
Twisted Fate

Runen, um engagierte gegnerische Teams zu schlagen

Entsiegeltes Zauberbuch

Perfektes Timing

Vasallenauflöser

Tonikum der Zeitkrümmung

Nimbus-Umhang

Absoluter Fokus
Our Twisted Fate builds come out of our analysis of 49,118 recently ranked Twisted Fate matches. Only the highest winrate Twisted Fate builds that are also in common use are advised by us. Since we have so many rounds in our data, we are very sure that we can provide the highest quality builds for Twisted Fate to help ensure you win your next game!
Additionally, Twisted Fate builds dedicated to a particular skill tier can be viewed by choosing another rank from the dropdown menu found above. The best Twisted Fate build shown will be focused on that tier's meta.