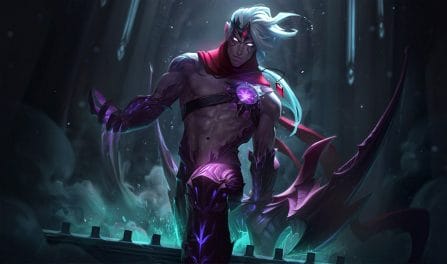 Die besten Runen, Gegenstände und Tipps, um die Konkurrenz zu dominieren
88,054 Varus Builds analysiert
Beste Gegenstände für dein

Varus

Build
The best items to incorporate into your Varus build are: Immortal Shieldbow, Guardian Angel, Guinsoo's Rageblade, and Blade of The Ruined King. Yet, similar to our rune advice, you can also find quality, focused, Varus item builds further down for the specific enemy team comp you are playing in your current match. Players who added these items in their setups had a much higher win rate than players who utilized other Varus builds.
Varus

Gegenstände, um gezielte Teamkämpfe zu besiegen
Beste

Varus

Runen für dein nächstes Build

Klingenhagel

Perfider Trick

Argus' Vermächtnis

Gefräßiger Jäger

Triumph

Niedermäher
If you are fighting a well-mixed enemy team comp, you should strongly consider getting him the Hail of Blades, Cheap Shot, Eyeball Collection, Ravenous Hunter, Triumph, and Cut Down runes. In recent games, he won the greatest percentage of his games when using these runes. However, if you are fighting a more single focused enemy team comp, such as an AD heavy or a crowd control centric team, you should instead look further down to use the best Varus runes to defeat your particular combination of foes.
Varus

Runen, um engagierte gegnerische Teams zu schlagen

Fokussierter Angriff

Geistesgegenwart

Legende: Eifer

Gnadenstoß

Geschmack von Blut

Gefräßiger Jäger
We set our Varus build suggestions by examining 88,054 recently ranked LoL games with him selected. We only advise the highest winrate Varus builds that have been built by ranked League players enough times for us to suggest them. With so many games in our data, we are very confident in our provided builds.
Additionally, to see Varus builds tailored to a unique division, pick a different division from the dropdown menu located above. If you select a different division, the proposed Varus build given will reflect that division's meta game.