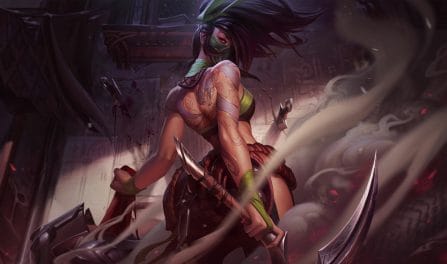 Los mejores campeones de LoL para sinergizar y contrarrestar a Akali
118,229 Akali Counters y emparejamientos analizados
Mejores counters de

Akali
To determine the ideal and worst counters for Akali, we reviewed the scores of 118,229 recently played, ranked League rounds. We determined which champs have the greatest and poorest win rates versus her. Additionally, we found those few that are solid allies and who could help stop you from being countered. Having evaluated so many games gives us great certainty in our conclusions.
As can be seen above, Zyra is the best to face off against Akali with a 56.0% win percentage against her. Similarly, Malzahar and Yorick are the next scariest threats to Akali. These two have win rates of 56.0% and 56.0%, respectively. You should avoid bringing her into a round where any of these other champions has been chosen.
On the other hand, if you are facing off against Akshan, you probably should expect to do much better. Akali counters them with a much higher win percentage of 54.0%. Likewise, you should anticipate doing very well when fighting Nidalee and Syndra. They have the next worst winrates when countering Akali.
If you are seeking the best champ synergies for your own allies to help improve your win rate more, take a look at the Akali synergies above. Regardless of her chosen position, she does admirably when alonside Yorick. This combination typically raises her chances of winning by 1.0%. Zyra and Trundle are also fantastic champions to pair with.
If you want to find out more about a particular Akali counter, along with the preferred builds to adopt in that situation, please click the corresponding row in the tables above. If the specific Akali counters you are interested in are not shown below, you may view all possible counters at the above link.
To get Akali pairings and counters from one division rank, you may use the dropdown menu above to filter the counter stats provided.
Cada semana revisamos millones de partidas de League of Legends sacadas directamente de los servidores de Riot. Analizamos los datos usando tanto estadísticas convencionales como algoritmos avanzados de aprendizaje automático para obtener los counters de Akali más precisos.
Guía para contrarrestar a

Akali
Akali intentará esconderse después de usar sus habilidades para reiniciar sus temporizadores de enfriamiento. Para derrotar a Akali, puedes golpearla con hechizos AOE mientras está invisible dentro del Manto Crepuscular.
Akali contrarresta las composiciones de equipo muy blandas. Si es elegida por el otro equipo, deberías considerar traer más tanques y/o más CC para desactivarla.
Akali es muy móvil. Siendo un campeón blando, no te quedes fuera de las coberturas ni te desplaces en solitario si ella puede estar cerca. La mayoría de los campeones tienen dificultades para contrarrestar a Akali 1 contra 1.