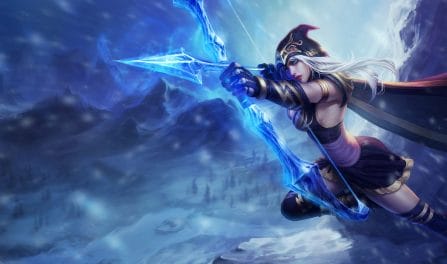 Los mejores campeones de LoL para sinergizar y contrarrestar a Ashe
525,060 Ashe Counters y emparejamientos analizados
To select the best and worst counters for Ashe, we evaluated the results of 525.060 recently finished, ranked League rounds. We determined which champs have the highest and lowest win rates versus her. Additionally, we determined those few that are good teammates and who could help prevent her from being countered. Having examined so many games provides us lots of certainty in our Ashe counter stats.
As shown above, Ziggs is the best to challenge Ashe with a 51.5% win fraction against her. Close behind, Yasuo and Miss Fortune are the next scariest counters to Ashe. They have win rates of 50.8% and 50.2%, respectively. You should avoid bringing her into a match where one of these other champs has been chosen.
On the other hand, if you're playing against Kalista, you should anticipate doing much better. Ashe counters them with a much higher win percentage of 55.6%. Similarly, you can expect to do very well when battling Akshan and Aphelios. These champs have the next worst win rates versus Ashe.
If you are looking for the best champion synergies for your own comrades to increase your chances of winning, glance at our champion synergies.
Regardless of her lane, she does admirably when paired with Brand. This pairing typically increases her average win rate by a few percent. Maestro Yi and Zyra are also superb champions to fight alongside.
To get the details and best Ashe counter builds about a particular matchup, you should click the corresponding row in the tables above. If you want some Ashe counters not listed here, you can click the "All Matchups" button to view details on all potential counters.
To restrict the Ashe counters to one skill level only, select your chosen ranked division from the dropdown above. The recommended champ counters and synergies will be updated.
Cada semana revisamos millones de partidas de League of Legends sacadas directamente de los servidores de Riot. Analizamos los datos usando tanto estadísticas convencionales como algoritmos avanzados de aprendizaje automático para obtener los counters de Ashe más precisos.
Guía para contrarrestar a

Ashe
Aunque Ashe puede ralentizar a sus objetivos, no tiene ninguna habilidad de huida, por lo que es fácil de abatir si puedes hacerlo desde un ángulo diferente al de tus campeones amigos. De esa manera, vencerás a Ashe evitando que los frene a todos a la vez.
La definitiva de Ashe aturde durante más tiempo si está lejos. De cerca, el aturdimiento es muy corto. No es una gran amenaza para los campeones de combate cuerpo a cuerpo que tienen suficiente tenacidad y/o velocidad de movimiento para superar su lentitud nativa.
La descarga de Ashe tiene un gran alcance, pero los súbditos pueden interceptar las flechas. Debes mantenerte detrás de tus súbditos para evitar su ataque en la fase inicial del carril.
Ashe contrarresta a los enemigos con poca movilidad. Su ralentización pasiva hace que sea muy difícil escapar de ella una vez que está encima de ti.
Con sus habilidades Tiro de Halcón y Volea, Ashe rara vez se meterá a un arbusto a ciegas. Será difícil vencer a Ashe poniéndole una trampa.