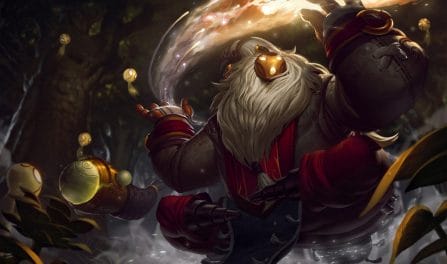 Las mejores runas, elementos y consejos para dominar a tu competencia
107,539 Bardo Builds Analizadas
Our Bardo builds come out of our examination of 107.539 recently ranked Bardo rounds. Only the best winrate Bardo builds that are also in common use are advised by us. Because we have so many rounds in our dataset, we are absolutely sure that we can provide top quality builds for B to help you win your next round!
Additionally, to see the top Bardo build from a different skill level, you can select a different skill tier from the dropdown menu above. The ideal champ builds will update to reflect that skill level's meta.
Los mejores items para

Bardo
The most important items to use in your champion's build include: Medallón de los Solari de Hierro,Coraza del muerto, and Fragmento de Hielo Puro. Players who included these items in their gear had a better winrate than players who worked towards other item builds for Bardo.
Furthermore, as with our rune builds, you can also find quality, focused, Bardo item builds just below for the particular enemy team comp you are playing in your next game.
Bardo

Items para derrotar a los Comps de equipos enfocados
Las mejores runas para

Bardo

Protector

Fuente de vida

Condicionamiento

Sobrecrecimiento

Colección de globos oculares

Cazador incesante
If you are facing a mixed enemy team composition, you should really consider grabbing him the Valor, and Dominación runes. In recent games, he won the greatest number of his games when using these runes.
Although, if you are battling a more single focused enemy team composition, such as an AP centric or a CC heavy team, you should instead browse a little down to see the best Bardo runes to win your particular round.
Bardo

Runas para vencer a los equipos enemigos dedicados

Protector

Fuente de vida

Revestimiento de huesos

Revitalizar

Golpe bajo

Cazador incesante