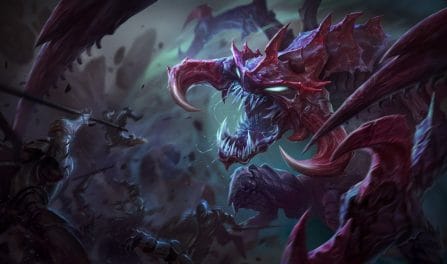 Los mejores campeones de LoL para sinergizar y contrarrestar a Cho'Gath
108,152 Cho'Gath Counters y emparejamientos analizados
To select the most and least advantageous counters for Cho'Gath, we studied the results of 108.152 recently finished, ranked League matches. We found which champs have the highest and lowest win rates against him. Moreover, we found those select champions that are exceptional teammates and who could help stop your champion from being beaten. Having checked so many games leaves us with great certainty in our Cho'Gath counter stats.
As can be seen above, Dr. Mundo is the best to face off against Cho'Gath with a 54.0% victory percentage against him. Close behind, Mordekaiser and Sett are the next greatest counters to Cho'Gath. They have win rates of 53.8% and 53.3%, respectively. You should not take him into a match where any of these other champions has been chosen.
Mejores counters de

Cho'Gath
Peores counters de

Cho'Gath
On the other hand, if you're battling against Malphite, you should expect to do much better. Cho'gath counters them with a great win percentage of 52.3%. Similarly, you can anticipate doing very well when facing Jax and Teemo. They have the next lowest winrates when trying to counter Cho'Gath.
If you want the best champion synergies for your own comrades to raise your win rate even further, take a peek at at the champion synergies.
Regardless of his lane, he does very well when on the same team as Brand. This combination typically increases his chances of winning by a few percent. Yasuo and Maestro Yi are also awesome champions to team up with.
To see the details and best Cho'Gath counter builds about a particular matchup, you can click the corresponding row in one of the tables above. If you are interested in some Cho'Gath counters not shown here, you may click the button near the top of the page to see them.
Additionally, if you need to find Cho'Gath synergies and counters for a specific division, feel free to pick a different division from the dropdown located above.
Cada semana revisamos millones de partidas de League of Legends sacadas directamente de los servidores de Riot. Analizamos los datos usando tanto estadísticas convencionales como algoritmos avanzados de aprendizaje automático para obtener los counters de Cho'Gath más precisos.
Guía para contrarrestar a

Cho'Gath
Intenta que Cho'Gath no tenga demasiadas acumulaciones de Festín, porque su vida aumenta con cada acumulación.
Esté atento a la nube de humo que indica dónde golpeará la habilidad Ruptura de Cho'Gath.
Cho'Gath contrarresta a campeones blandos con poca movilidad. Su definitiva causará un daño verdadero masivo. Si tienes poca vida, huye. Puede que se te eche encima y te derribe de un solo mordisco.