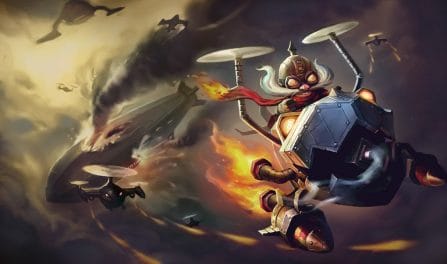 Las mejores runas, elementos y consejos para dominar a tu competencia
43,714 Corki Builds Analizadas
We calculated our Corki build guidance by analyzing 43.714 recently ranked LoL rounds with him in them. We only advise the best winrate Corki builds that have been built by ranked gamers enough times for us to reccomend them. With so many matches in our data, we are quite confident in our recommended builds.
Additionally, Corki builds specific to a unique skill rank can be seen by picking a different tier from the dropdown menu found above. The suggested Corki build shown will be specific to that tier's meta.
Los mejores items para

Corki
The best items to incorporate into your champion's build include: Arcoescudo inmortal,Cañón de fuego rápido, and Segador de esencia. Those who added these items in their kits had a better winrate than those who used other Corki builds.
Yet, like our rune recommendations, you can also get quality, focused, Corki item builds farther down for the specific enemy team setup you are playing in your current match.
Corki

Items para derrotar a los Comps de equipos enfocados
Las mejores runas para

Corki

Pies veloces

Claridad mental

Leyenda: Linaje

Derribado

Calzado mágico

Entrega de galletas
If you are battling a varied enemy team arrangement, you should strongly consider getting him the Precisión, and Inspiración runes. In recent games, he won the largest number of his matches when built with these runes.
Yet, if you are playing a more homogenous enemy team composition, such as an AD heavy or a CC centric team, you should instead look a little below to use the best Corki runes to defeat your particular combination of foes.
Corki

Runas para vencer a los equipos enemigos dedicados

Pies veloces

Triunfo

Leyenda: Presteza

Golpe de gracia

Calzado mágico

Entrega de galletas
Guía para jugar con

Corki
Utiliza a la valquiria para conseguir una mejor posición sobre tu enemigo o para escapar de las emboscadas enemigas.
Consigue objetos de maná para asegurarte de que puedes bombardear las habilidades de Corki para el acoso.