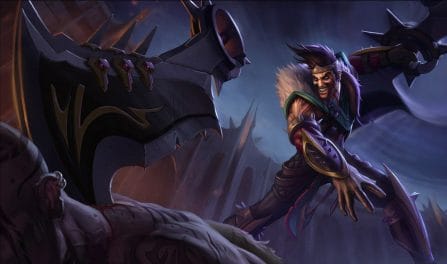 Las mejores runas, elementos y consejos para dominar a tu competencia
224,823 Draven Builds Analizadas
We came up with our Draven build guidance by examining 224.823 recently ranked League of Legends matches with him in them. We only recommend the best winrate Draven builds that have been used by ranked LoL players enough times for us to advise them. With so many games in our dataset, we are very confident in our recommended builds.
Additionally, to view the best Draven build designed for a different skill level, you can pick a different one from the dropdown menu above. The proposed champion builds will change to characterize that skill level's meta.
Los mejores items para

Draven
The most essential items to use in your champ's build include: Arcoescudo inmortal,Ángel de la guarda, and Recaudadora. Players who included these items in their builds had a greater win rate than players who utilized other Draven builds.
Yet, as with our rune builds, you can also find quality, dedicated, Draven item builds farther down for the particular enemy team setup you are battling in your ongoing match.
Draven

Items para derrotar a los Comps de equipos enfocados
Las mejores runas para

Draven

Lluvia de cuchillas

Sabor a sangre

Colección de globos oculares

Cazador voraz

Leyenda: Linaje

Golpe de gracia
If you are facing a well-mixed enemy team arrangement, you should really consider grabbing yourself the Dominación, and Precisión runes. In recent matches, he won the greatest number of his games when using these runes.
However, if you are facing a more single focused enemy team comp, such as an AD focused or a crowd control centric team, you should instead browse a little down to use the best Draven runes to win your particular game.
Draven

Runas para vencer a los equipos enemigos dedicados

Lluvia de cuchillas

Sabor a sangre

Colección de globos oculares

Cazador voraz

Golpe de gracia

Leyenda: Linaje
Guía para jugar con

Draven
Draven depende de sus compañeros de equipo para asegurar las muertes
Cuando estés en la jungla, mantén tu atención en los centinelas y el mapa para evitar ser atacado.