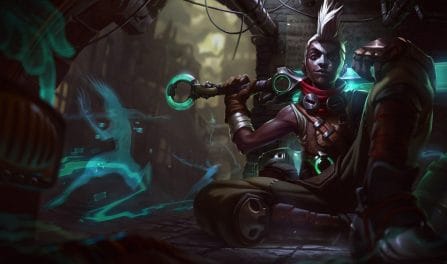 Las mejores runas, elementos y consejos para dominar a tu competencia
173,044 Ekko Builds Analizadas
We established our Ekko build suggestions by analyzing 173.044 recently ranked League rounds with him selected. We only recommend the top winrate Ekko builds that were built by ranked League players enough times for us to propose them. With so many games in our dataset, we are very confident in our suggested builds.
Additionally, to see Ekko builds specific to a unique skill level, pick your desired tier from the dropdown menu located above. If you change the selection, the best Ekko build given will reflect that division's meta game.
Los mejores items para

Ekko
The most critical items to include in your champ's build include: Cintomisil hextech,Sombrero mortal de Rabadon, and Diente de Nashor. Those who included these pieces in their gear had a greater winrate than players who used other Ekko builds.
Furthermore, similar to our rune setups, you can also find great, focused, Ekko item builds a little further down for the particular enemy team setup you are playing in your current match.
Ekko

Items para derrotar a los Comps de equipos enfocados
Las mejores runas para

Ekko

Cosecha oscura

Impacto repentino

Colección de globos oculares

Cazador voraz

Triunfo

Golpe de gracia
If you are trying to beat a well-mixed enemy team arrangement, you should really consider grabbing him the Dominación, and Precisión runes. In recent matches, he won the largest percentage of his rounds when equipped with these runes.
Yet, if you are battling a more homogenous enemy team comp, such as an AP heavy or a CC focused team, you should instead scroll a little below to use the best Ekko runes to win your particular match.
Ekko

Runas para vencer a los equipos enemigos dedicados

Cosecha oscura

Impacto repentino

Colección de globos oculares

Cazador voraz

Triunfo

Leyenda: Presteza
Los mejores combos comienzan con el salto de fase para preparar Rebobinador de Tiempo o Convergencia Paralela.
Merece la pena intentar activar la Resonancia Pulsar-Z en el campeón enemigo para mejorar la velocidad de movimiento.
Averigua cuántas formas útiles hay de utilizar el Salto de Fase.