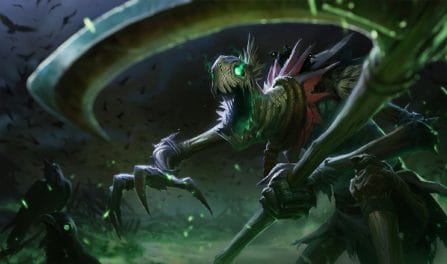 Las mejores runas, elementos y consejos para dominar a tu competencia
150,001 Fiddlesticks Builds Analizadas
Our Fiddlesticks builds come out of our evaluation of 150.001 recently ranked Fiddlesticks matches. Only the top winrate Fiddlesticks builds that are also in common use are suggested by us. Since we have so many games in our data, we are sure that we can produce the best quality builds for t to help you win your next match!
Additionally, to view the top Fiddlesticks build designed for a different skill level, please choose a different one from the dropdown menu above. The proposed champion builds will change to capture that division's meta.
Los mejores items para

Fiddlesticks
The most important items to incorporate into your champ's build include: Cintomisil hextech,Sombrero mortal de Rabadon, and Reloj de arena de Zhonya. Players who added these items in their builds had a better winrate than players who utilized other Fiddlesticks builds.
Additionally, similar to our rune recommendations, you can also get great, focused, Fiddlesticks item builds a little further down for the specific enemy team composition you are fighting in your ongoing game.
Fiddlesticks

Items para derrotar a los Comps de equipos enfocados
Las mejores runas para

Fiddlesticks

Electrocutar

Golpe bajo

Colección de globos oculares

Cazador definitivo

Triunfo

Golpe de gracia
If you are playing a varied enemy team comp, you should strongly consider getting him the Dominación, and Precisión runes. In recent games, he won the greatest percentage of his rounds when built with these runes.
Although, if you are fighting a more focused enemy team comp, such as an AP heavy or a CC heavy team, you should instead browse a little below to use the best Fiddlesticks runes to defeat your particular combination of foes.
Fiddlesticks

Runas para vencer a los equipos enemigos dedicados

Electrocutar

Golpe bajo

Colección de globos oculares

Cazador definitivo

Triunfo

Golpe de gracia
Guía para jugar con

Fiddlesticks
Viento Oscuro puede usarse en campamentos neutrales que tengan más de 1 monstruo, porque rebota en múltiples enemigos.
Se puede utilizar Aterrorizar para inhabilitar a los campeones débiles, y luego se puede utilizar Viento oscuro para silenciarlos.