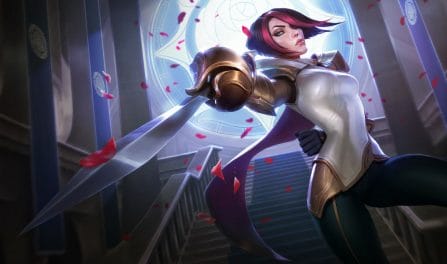 Las mejores runas, elementos y consejos para dominar a tu competencia
78,923 Fiora Builds Analizadas
Los mejores items para

Fiora
The most critical items to include in your Fiora build include: Goredrinker, Guardian Angel, Muramana, and Death's Dance. Additionally, as with our rune builds, you can also get quality, focused, Fiora item builds farther down for the particular enemy team composition you are facing in your ongoing match. Those who included these items in their setups had a significantly better winrate than players who went for other Fiora builds.
Fiora

Items para derrotar a los Comps de equipos enfocados
Las mejores runas para

Fiora

Conquistador

Triunfo

Leyenda: Tenacidad

Golpe de gracia

Demoler

Revitalizar
If you are playing a well-mixed enemy team comp, you should really consider grabbing Fiora the Conqueror, Triumph, Legend: Tenacity, Coup de Grace, Demolish, and Revitalize runes. In recent games, she won the greatest fraction of her rounds when using these runes. Yet, if you are trying to beat a more homogenous enemy team composition, such as an AP heavy or a tank focused team, you should instead look below to view the best Fiora runes to win your particular game.
Fiora

Runas para vencer a los equipos enemigos dedicados

Conquistador

Triunfo

Leyenda: Tenacidad

Último esfuerzo

Fuerzas renovadas

Revitalizar
Guía para jugar con

Fiora
Da prioridad a los signos vitales del enemigo (Baile del duelista) para asegurarte de que tienes la ventaja durante las escaramuzas.
Fiora puede atacar a los tanques enemigos gracias a su habilidad Gran Desafío, ayudando a curarla a ella y a sus compañeros de equipo si el enemigo cae.
We came up with our Fiora build recommendations by examining 78,923 recently ranked LoL matches with her selected. We only advise the highest winrate Fiora builds that have been built by ranked gamers enough times for us to propose them. With so many games in our data, we are quite confident in our provided builds.
Additionally, to see the top Fiora build for a different skill division, you can pick a different one from the dropdown menu above. The recommended Fiora builds will update to reflect that skill level's meta.