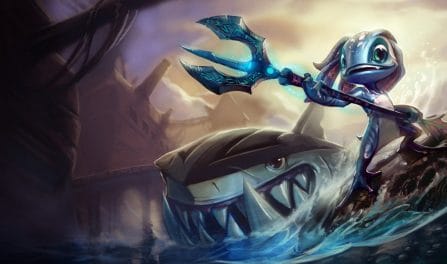 Las mejores runas, elementos y consejos para dominar a tu competencia
79,766 Fizz Builds Analizadas
Los mejores items para

Fizz
The most essential items to incorporate into your Fizz build are: Night Harvester, Guardian Angel, Lich Bane, and Zhonya's Hourglass. Yet, similar to our rune advice, you can also get quality, dedicated, Fizz item builds further down for the particular enemy team comp you are fighting in your current match. Players who added these items in their setups had a higher win rate than those who worked towards other Fizz builds.
Fizz

Items para derrotar a los Comps de equipos enfocados
Las mejores runas para

Fizz

Electrocutar

Impacto repentino

Guardián zombi

Cazador incesante

Entrega de galletas

Perspicacia cósmica
If you are facing a well-mixed enemy team composition, you should really consider grabbing yourself the Electrocute, Sudden Impact, Zombie Ward, Relentless Hunter, Biscuit Delivery, and Cosmic Insight runes. In recent matches, he won the greatest percentage of his games when using these runes. Yet, if you are fighting a different enemy team composition, such as an AP centric or a tank centric team, you should instead look further down to use the best Fizz runes to defeat your particular enemy team.
Fizz

Runas para vencer a los equipos enemigos dedicados

Electrocutar

Impacto repentino

Colección de globos oculares

Cazador voraz

Concentración absoluta

Piroláser
Principalmente un asesino de Poder de Habilidad
Fizz tiene un buen combo de Juguetón/Bromista que puede usarse para iniciar una pelea de equipo (aterrizar sobre un enemigo para infligirle daño) o para escapar de los skillshots y ganks.
We came up with our Fizz build suggestions by examining 79,766 recently ranked LoL games with him selected. We only propose the best winrate Fizz builds that were used by ranked LoL players enough times for us to propose them. With so many rounds in our data, we are very confident in our provided builds.
Additionally, to get Fizz builds customized to a unique division, choose a different division from the dropdown menu above. If you change the selection, the recommended Fizz build given will reflect that division's meta.