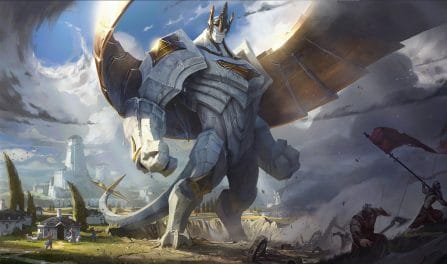 Las mejores runas, elementos y consejos para dominar a tu competencia
82,346 Galio Builds Analizadas
Our Galio builds come out of our examination of 82.346 recently ranked Galio matches. Only the highest win rate Galio builds that are also in common use are recommended by us. Because we have so many rounds in our database, we are sure that we can give you the best quality builds for o to help ensure you win your next round!
Additionally, to view the best Galio build for a different skill level, you can pick a different skill tier from the dropdown menu above. The calculated champ builds will change to reflect that division's meta.
Los mejores items para

Galio
The most essential items to include in your champion's build include: Cintomisil hextech,Reloj de arena de Zhonya, and Abrazo demoníaco. Players who included these pieces in their kits had a greater win rate than players who went for other Galio builds.
Additionally, similar to our rune recommendations, you can also get quality, dedicated, Galio item builds just below for the specific enemy team comp you are battling in your current game.
Galio

Items para derrotar a los Comps de equipos enfocados
Las mejores runas para

Galio

Reverberacción

Golpe de escudo

Fuerzas renovadas

Inquebrantable

Capa del nimbo

Trascendencia
If you are playing a varied enemy team composition, you should strongly consider getting him the Valor, and Brujería runes. In recent matches, he won the largest percentage of his games when built with these runes.
However, if you are facing a more focused enemy team comp, such as an AP heavy or a crowd control focused team, you should instead scroll further down to see the best Galio runes to defeat your particular enemy team.
Galio

Runas para vencer a los equipos enemigos dedicados

Reverberacción

Golpe de escudo

Fuerzas renovadas

Sobrecrecimiento

Capa del nimbo

Trascendencia
Guía para jugar con

Galio
Vientos de guerra puede utilizarse para golpear por última vez a los súbditos y acosar a los campeones enemigos.
Canaliza el Escudo de Durand para golpear a tantos enemigos como sea posible para iniciar una pelea de equipo.