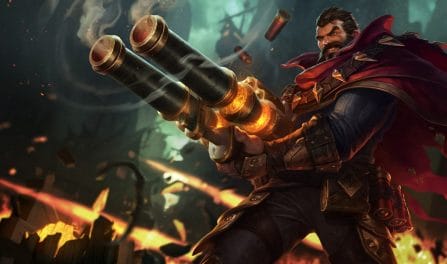 Las mejores runas, elementos y consejos para dominar a tu competencia
220,189 Graves Builds Analizadas
We calculated our Graves build recommendations by examining 220.189 recently ranked League matches with him selected. We only advise the best winrate Graves builds that have been used by ranked LoL players enough times for us to reccomend them. With so many matches in our dataset, we are quite confident in our recommended builds.
Additionally, to view the best Graves build designed for a different skill level, you can select a different skill tier from the dropdown menu above. The calculated champion builds will change to reflect that division's meta.
Los mejores items para

Graves
The best items to incorporate into your champ's build include: Arcoescudo inmortal,Filo infinito, and Sanguinaria. Those who added these items in their gear had a higher win rate than players who utilized other Graves builds.
Additionally, like our rune advice, you can also find great, dedicated, Graves item builds just below for the particular enemy team comp you are fighting in your ongoing game.
Graves

Items para derrotar a los Comps de equipos enfocados
Las mejores runas para

Graves

Pies veloces

Triunfo

Leyenda: Presteza

Último esfuerzo

Calzado mágico

Mercado del futuro
If you are battling a mixed enemy team composition, you should strongly consider getting yourself the Precisión, and Inspiración runes. In recent matches, he won the greatest fraction of his games when using these runes.
However, if you are playing a more homogenous enemy team composition, such as an AP focused or a crowd control centric team, you should instead look below to view the best Graves runes to win your particular match.
Graves

Runas para vencer a los equipos enemigos dedicados

Cosecha oscura

Impacto repentino

Colección de globos oculares

Cazador incesante

Leyenda: Presteza

Triunfo
Guía para jugar con

Graves
Utiliza Disparo Veloz para acercarte y luego sigue con Fin del Trayecto para causar mucho daño.
La Pantalla de Humo puede utilizarse como mecanismo de iniciación o de huida, ya que aplica la visión cercana a todos los enemigos dentro de la nube.