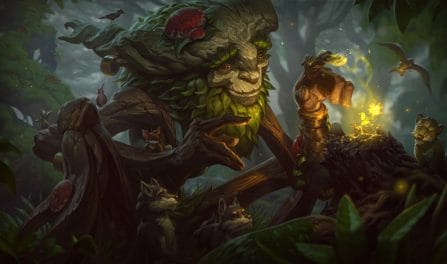 Los mejores campeones de LoL para sinergizar y contrarrestar a Ivern
23,453 Ivern Counters y emparejamientos analizados
Mejores counters de

Ivern
To select the most and least favorable counters for Ivern, we summarized the outcomes of 23,453 recently completed, ranked League of Legends rounds. We determined which champions have the highest and lowest win rates against him. Additionally, we extracted those select champions that are ideal allies and who could help stop your champ from being crushed. Having examined so many rounds provides us a lot of confidence in our Ivern counter stats.
As shown above, Heimerdinger is the strongest to beat Ivern with a 57.0% win percentage against him. Similarly, Vel'Koz and Nocturne are the next greatest threats to Ivern. These two champs have win rates of 55.0% and 55.0%, respectively. You should not bring him into a game where any of these champions has already been chosen.
On the other hand, if you are playing against Taric, you probably should expect to do much better. Ivern counters them with a solid win rate of 55.0%. Equally, you can anticipate doing very well when facing Azir and Gwen. They have the next poorest win rates against Ivern.
If you want good champ synergies for your own teammates to raise your winrate even further, take a peek at at the champion synergies above. Regardless of his chosen position, he does best when alonside Camille. This pairing typically raises his average win rate by 3.0%. Kled and Yasuo are also great champs to fight alongside.
If you would like to find out more about a specific Ivern counter, as well as the finest builds to use in that matchup, please click the corresponding row in the tables above. If the specific Ivern counters you are interested in are not avaialable below, you may view all possible counters at the link above.
Additionally, if you want to review Ivern synergies and counters for a particular division, please feel free to select a different division from the dropdown menu above.
Cada semana revisamos millones de partidas de League of Legends sacadas directamente de los servidores de Riot. Analizamos los datos usando tanto estadísticas convencionales como algoritmos avanzados de aprendizaje automático para obtener los counters de Ivern más precisos.
Guía para contrarrestar a

Ivern
definitivamente NO quieres ser golpeado por Invocador de Raíces cuando Ivern y sus aliados están juntos porque les permite lanzarse hacia ti y matarte rápidamente. Tiene un rango de lanzamiento estrecho y una animación de movimiento lento, ¡ESQUÍVALO!
No te pongas cerca de los enemigos que tienen Detonar Semilla porque también puede dañarte y ralentizarte.
Ivern contrarresta gran parte de la visión del enemigo con el Creador de maleza y puede hacer que el minimapa parezca que no hay nadie cerca de Dragón o Barón aunque tengas visión de ellos.