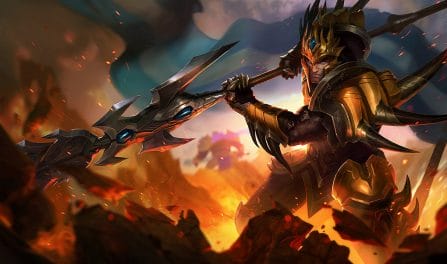 Las mejores runas, elementos y consejos para dominar a tu competencia
146,144 Jarvan IV Builds Analizadas
Our Jarvan IV builds come from our analysis of 146.144 recently ranked Jarvan IV matches. Only the best winrate Jarvan IV builds that are also commonly used are advised by us. Since we have so many games in our dataset, we are quite confident that we can produce top quality builds for a to help ensure you win your next match!
Additionally, to get Jarvan IV builds tailored to a unique skill level, select a different tier from the dropdown menu found above. In that case, the best Jarvan IV build given will reflect that tier's meta gameplay.
Los mejores items para

Jarvan IV
The most essential items to include in your champ's build include: Chupasangre,Ángel de la guarda, and Cuchilla negra. Players who included these items in their builds had a significantly better win rate than those who worked towards other item builds for Jarvan IV.
Furthermore, as with our rune recommendations, you can also get great, focused, Jarvan IV item builds farther down for the specific enemy team comp you are fighting in your current game.
Jarvan IV

Items para derrotar a los Comps de equipos enfocados
Las mejores runas para

Jarvan IV

Conquistador

Triunfo

Leyenda: Presteza

Golpe de gracia

Perspicacia cósmica

Calzado mágico
If you are fighting a well-mixed enemy team comp, you should strongly consider getting Jarvan IV the Precisión, and Inspiración runes. In recent games, he won the greatest number of his games when using these runes.
Yet, if you are playing a more homogenous enemy team composition, such as an AD heavy or a CC centric team, you should instead look a little below to get the best Jarvan IV runes to defeat your particular enemy team.
Jarvan IV

Runas para vencer a los equipos enemigos dedicados

Conquistador

Triunfo

Leyenda: Presteza

Golpe de gracia

Perspicacia cósmica

Calzado mágico
Guía para jugar con

Jarvan IV
El mejor combo de Jarvan es Estándar Demaciano seguido de Golpe de Dragón como herramienta de iniciación o escape rápido.
La habilidad definitiva de Jarvan, Cataclismo, crea un círculo de terreno infranqueable que puede interrumpir las formaciones del equipo enemigo y dividirlo para aislar a determinados campeones.
La égida dorada de Jarvan proporciona un escudo que puede proteger del daño enemigo y ralentizarlo durante un breve periodo de tiempo.