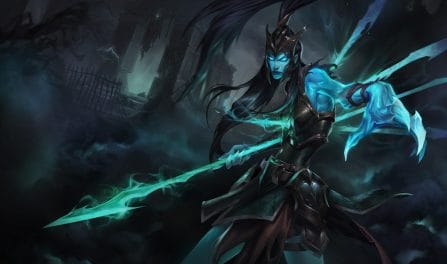 Las mejores runas, elementos y consejos para dominar a tu competencia
50,816 Kalista Builds Analizadas
We set our Kalista build recommendations by examining 50.816 recently ranked League games with her in them. We only propose the highest winrate Kalista builds that were used by ranked LoL players enough times for us to advise them. With so many games in our dataset, we are confident in our recommended builds.
Additionally, Kalista builds dedicated to a unique skill rank can be seen by choosing a different rank from the dropdown menu found above. The recommended Kalista build shown will be specific to that division's meta.
Los mejores items para

Kalista
The most essential items to incorporate into your champ's build include: Arcoescudo inmortal,Sanguinaria, and Huracán de Runaan. Players who included these items in their gear had a significantly better win rate than those who utilized other item builds for Kalista.
Moreover, like our rune advice, you can also get great, dedicated, Kalista item builds a little further down for the particular enemy team composition you are battling in your ongoing match.
Kalista

Items para derrotar a los Comps de equipos enfocados
Las mejores runas para

Kalista

Lluvia de cuchillas

Sabor a sangre

Colección de globos oculares

Cazador voraz

Leyenda: Presteza

Golpe de gracia
If you are battling a varied enemy team arrangement, you should strongly consider getting yourself the Dominación, and Precisión runes. In recent matches, she won the greatest number of her games when using these runes.
Although, if you are battling a singular enemy team composition, such as an AP focused or a tank heavy team, you should instead scroll a little below to find the best Kalista runes to defeat your particular set of opponents.
Kalista

Runas para vencer a los equipos enemigos dedicados

Lluvia de cuchillas

Sabor a sangre

Colección de globos oculares

Cazador voraz

Leyenda: Presteza

Triunfo
Guía para jugar con

Kalista
Puedes dejar fuera de combate a tus enemigos y evadir los disparos de habilidad con la pasiva de Rigor marcial y moviéndote siempre. Lo mismo puede usarse para kitear a los enemigos
El Centinela de Kalista y la Llamada del Destino deben coordinarse con la CC de tu apoyo para ser eficaces.