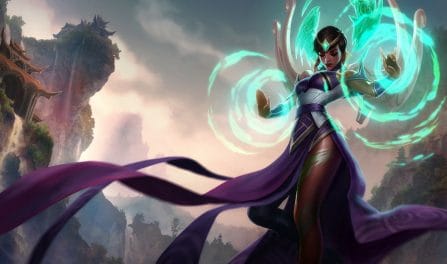 Las mejores runas, elementos y consejos para dominar a tu competencia
158,170 Karma Builds Analizadas
Our Karma builds result from our evaluation of 158.170 recently ranked Karma rounds. Only the best winrate Karma builds that are also in common use are suggested by us. Since we have so many rounds in our data, we are sure that we can produce top quality builds for a to help ensure you win your next game!
Additionally, Karma builds dedicated to a particular skill rank can be viewed by picking a different tier from the dropdown menu found above. The recommended Karma build shown will be specific to that tier's meta.
Los mejores items para

Karma
The best items to use in your champion's build are: Renovación de piedra lunar,Fragmento de Hielo Puro, and Bastón de aguas fluidas. Those who added these items in their gear had a much better win rate than those who worked towards other item builds for Karma.
Furthermore, like our rune suggestions, you can also get great, dedicated, Karma item builds a little further down for the particular enemy team comp you are playing in your ongoing match.
Karma

Items para derrotar a los Comps de equipos enfocados
Las mejores runas para

Karma

Invocar a Aery

Banda de maná

Trascendencia

Piroláser

Revitalizar

Revestimiento de huesos
If you are battling a mixed enemy team arrangement, you should strongly consider getting her the Brujería, and Valor runes. In recent games, she won the greatest number of her games when equipped with these runes.
Yet, if you are facing a more homogenous enemy team composition, such as an AP centric or a CC centric team, you should instead browse further down to get the best Karma runes to win your particular game.
Karma

Runas para vencer a los equipos enemigos dedicados

Invocar a Aery

Banda de maná

Trascendencia

Se avecina tormenta

Revitalizar

Revestimiento de huesos
Guía para jugar con

Karma
Karma es un campeón a distancia que sobresale en enfrentamientos rápidos durante la fase de carril. Puedes acosar al enemigo con Llama Interna o golpear la ola de esbirros para ayudar a tu compañero a dar el último golpe
Si haces que la duración de la atadura de Resuelto enfocado sea completa, puedes enraizar a los enemigos y luego usar Bengala para infligir más daño.