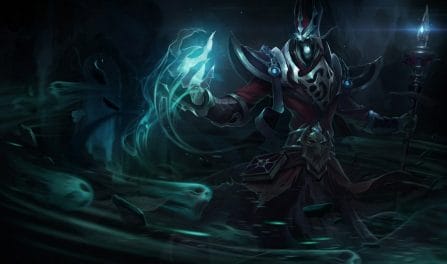 Las mejores runas, elementos y consejos para dominar a tu competencia
32,871 Karthus Builds Analizadas
Los mejores items para

Karthus
The most important items to include in your Karthus build include: Luden's Tempest, Seraph's Embrace, Rabadon's Deathcap, and Void Staff. Yet, similar to our rune recommendations, you can also get great, dedicated, Karthus item builds further down for the specific enemy team comp you are battling in your current game. Players who added these items in their gear had a much better win rate than those who worked towards other Karthus builds.
Karthus

Items para derrotar a los Comps de equipos enfocados
Las mejores runas para

Karthus

Cosecha oscura

Golpe bajo

Colección de globos oculares

Cazador definitivo

Perspicacia cósmica

Calzado mágico
If you are playing a mixed enemy team comp, you should strongly consider getting yourself the Dark Harvest, Cheap Shot, Eyeball Collection, Ultimate Hunter, Cosmic Insight, and Magical Footwear runes. In recent matches, he won the largest fraction of his games when using these runes. Yet, if you are playing a more single focused enemy team composition, such as an AP focused or a crowd control heavy team, you should instead scrollbrowse below to see the best Karthus runes to win your particular match.
Karthus

Runas para vencer a los equipos enemigos dedicados

Cosecha oscura

Golpe bajo

Colección de globos oculares

Cazador definitivo

Calzado mágico

Perspicacia cósmica
Guía para jugar con

Karthus
Sembrar la Desolación es un potente tiro de habilidad que requiere práctica para perfeccionarse. Sin embargo, vale la pena porque puede brindarle una ventaja significativa en el carril central.
El Muro de dolor se puede utilizar para ralentizar a los enemigos durante las luchas de equipo o cuando alguien ayuda a gankear tu carril.
Our Karthus builds result from our evaluation of 32,871 recently ranked Karthus rounds. Only the top winrate Karthus builds that are also in common use are recommended by us. Because we have so many rounds in our data, we are sure that we can show you high quality builds for Karthus to help ensure you win your next match!
Additionally, to view Karthus builds customized to a unique division, choose your desired division from the dropdown menu found above. If you select a different division, the proposed Karthus build given will reflect that division's meta game.