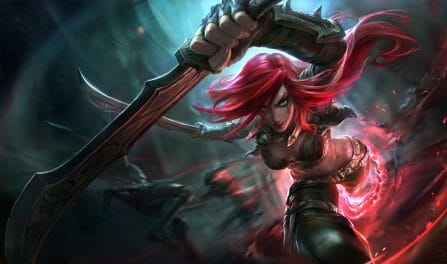 Las mejores runas, elementos y consejos para dominar a tu competencia
238,710 Katarina Builds Analizadas
We established our Katarina build recommendations by examining 238.710 recently ranked League of Legends games with her selected. We only recommend the highest winrate Katarina builds that have been built by ranked gamers enough times for us to suggest them. With so many games in our data, we are very confident in our recommended builds.
Additionally, to view the best Katarina build designed for a different skill rank, you can pick a different one from the dropdown menu above. The calculated champ builds will change to characterize that skill level's meta.
Los mejores items para

Katarina
The most essential items to include in your champ's build include: Creagrietas,Sombrero mortal de Rabadon, and Diente de Nashor. Those who added these pieces in their gear had a significantly better win rate than players who utilized other item builds for Katarina.
Furthermore, similar to our rune advice, you can also get great, focused, Katarina item builds a little further down for the particular enemy team setup you are playing in your current match.
Katarina

Items para derrotar a los Comps de equipos enfocados
Las mejores runas para

Katarina

Conquistador

Triunfo

Leyenda: Tenacidad

Golpe de gracia

Impacto repentino

Cazador incesante
If you are fighting a well-mixed enemy team comp, you should really consider grabbing yourself the Precisión, and Dominación runes. In recent matches, she won the greatest number of her games when using these runes.
Yet, if you are trying to beat a more homogenous enemy team comp, such as an AD focused or a crowd control focused team, you should instead look a little below to get the best Katarina runes to defeat your particular set of opponents.
Katarina

Runas para vencer a los equipos enemigos dedicados

Conquistador

Triunfo

Leyenda: Tenacidad

Golpe de gracia

Revestimiento de huesos

Sobrecrecimiento
Guía para jugar con

Katarina
Katarina puede farmear eficazmente al principio del juego con la Hoja rebotante, pero es cuerpo a cuerpo, por lo que debe tener cuidado durante la fase de carril.
No inicies peleas de equipo con el Loto de la Muerte. En su lugar, deja que tu equipo inicie y luego entra en el centro del equipo enemigo con Loto de la Muerte.