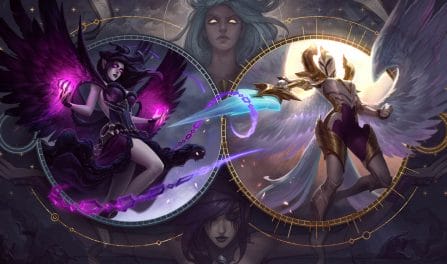 Los mejores campeones de LoL para sinergizar y contrarrestar a Kayle
121,495 Kayle Counters y emparejamientos analizados
Mejores counters de

Kayle
We calculated the best and worst Kayle counters with info pulled from 121,495 ranked League of Legends rounds. We have worked out those champions with the highest and lowest rates of victory versus her. Additionally, we calculated which champions can be great teammates to to get more wins.
As shown above, Viktor is the best to face off against Kayle with a 52.0% victory percentage against her. Close behind, Brand and Nasus are the next largest threats to Kayle. These two have win rates of 51.0% and 51.0%, respectively. You should not bring her into a match where any of these other champions has been picked.
Conversely, if you're battling against Akshan, you should anticipate doing much better. Kayle counters them with a great win percentage of 59.0%. Equally, you can expect to do very well when facing Nidalee and Gangplank. These champs have the next poorest winrates when trying to counter Kayle.
If you are looking for good champion synergies for your own comrades to enhance your victory rate more, take a peek at at the Kayle synergies above. Regardless of her lane, she does very well when paired with Kled. This pairing typically raises her chances of winning by 6.0%. Sion and Zyra are also fantastic champs to fight alongside.
To get the details and best Kayle counter builds for a particular matchup, you should click the related row in the tables above. If you would like some Kayle counters that aren't listed here, you can click the "All Matchups" button to see them.
Additionally, if you would like to review Kayle synergies and counters for a particular skill level, please feel free to choose an individual division from the dropdown above.
Cada semana revisamos millones de partidas de League of Legends sacadas directamente de los servidores de Riot. Analizamos los datos usando tanto estadísticas convencionales como algoritmos avanzados de aprendizaje automático para obtener los counters de Kayle más precisos.
Guía para contrarrestar a

Kayle
Kayle puede infligir una gran cantidad de daño si es capaz de conseguir objetos de velocidad de ataque. No la dejes sola en el carril y asegúrate de acosarla constantemente.
Kayle contrarresta a casi todos los campeones en el juego tardío. Es una hyper carry, pero Kayle se contrarresta a sí misma en la fase inicial, donde es relativamente débil y debe usar el cuerpo a cuerpo para golpear por última vez a los súbditos.
Toma nota cuando Kayle usa Intervención y cambia de objetivo a quien no sea invulnerable.