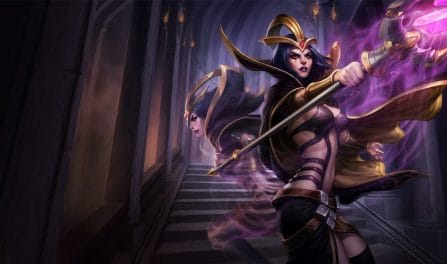 Las mejores runas, elementos y consejos para dominar a tu competencia
85,796 LeBlanc Builds Analizadas
Los mejores items para

LeBlanc
The most essential items to incorporate into your LeBlanc build include: Luden's Tempest, Rabadon's Deathcap, Horizon Focus, and Cosmic Drive. Yet, similar to our rune suggestions, you can also get great, dedicated, LeBlanc item builds farther down for the particular enemy team composition you are facing in your ongoing game. Players who added these pieces in their setups had a higher win rate than those who tried for other builds for LeBlanc.
LeBlanc

Items para derrotar a los Comps de equipos enfocados
Las mejores runas para

LeBlanc

Electrocutar

Sabor a sangre

Colección de globos oculares

Cazador voraz

Claridad mental

Leyenda: Tenacidad
If you are trying to beat a mixed enemy team comp, you should strongly consider getting LeBlanc the Electrocute, Taste of Blood, Eyeball Collection, Ravenous Hunter, Presence of Mind, and Legend: Tenacity runes. In recent matches, she won the largest fraction of her games when equiped with these runes. However, if you are playing a more single focused enemy team composition, such as an AP focused or a CC centric team, you should instead scrollbrowse further down to get the best LeBlanc runes to win your particular match.
LeBlanc

Runas para vencer a los equipos enemigos dedicados

Electrocutar

Impacto repentino

Colección de globos oculares

Cazador definitivo

Triunfo

Golpe de gracia
Guía para jugar con

LeBlanc
La posición es fundamental a la hora de lanzar las Cadenas Etéreas. Utiliza la Distorsión para situarte en el lugar adecuado y maximizar el efecto.
Si lanzas Mímico antes de otro hechizo, tendrás una copia del mismo durante un corto periodo de tiempo.
We came up with our LeBlanc build recommendations by analyzing 85,796 recently ranked League matches with her in them. We only propose the highest winrate LeBlanc builds that were used by ranked players enough times for us to advise them. With so many games in our data, we are quite confident in our recommended builds.
Additionally, to see LeBlanc builds specific to a unique skill level, pick your desired rank from the dropdown menu located above. In that case, the proposed LeBlanc build given will be based on that tier's meta gameplay.