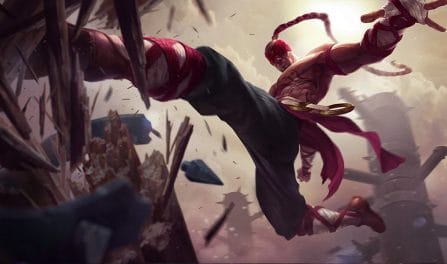 Las mejores runas, elementos y consejos para dominar a tu competencia
313,454 Lee Sin Builds Analizadas
We set our Lee Sin build recommendations by examining 313.454 recently ranked LoL matches with him in them. We only propose the highest winrate Lee Sin builds that were built by ranked gamers enough times for us to reccomend them. With so many rounds in our dataset, we are quite confident in our suggested builds.
Additionally, to view Lee Sin builds specific to a particular division, pick a different rank from the dropdown menu located above. If you select a different division, the proposed Lee Sin build given will reflect that division's meta game.
Los mejores items para

Lee Sin
The most critical items to use in your champ's build are: Eclipse,Ángel de la guarda, and Calibrador de Sterak. Players who included these pieces in their kits had a better winrate than players who used other builds for Lee Sin.
Furthermore, as with our rune advice, you can also get quality, dedicated, Lee Sin item builds below for the particular enemy team comp you are fighting in your ongoing match.
Lee Sin

Items para derrotar a los Comps de equipos enfocados
Las mejores runas para

Lee Sin

Conquistador

Triunfo

Leyenda: Tenacidad

Último esfuerzo

Sabor a sangre

Cazador voraz
If you are fighting a well-mixed enemy team arrangement, you should strongly consider getting him the Precisión, and Dominación runes. In recent matches, he won the greatest number of his matches when built with these runes.
Yet, if you are playing a more single focused enemy team composition, such as an AD centric or a crowd control centric team, you should instead browse below to use the best Lee Sin runes to win your particular match.
Lee Sin

Runas para vencer a los equipos enemigos dedicados

Conquistador

Triunfo

Leyenda: Presteza

Último esfuerzo

Calzado mágico

Perspicacia cósmica
Guía para jugar con

Lee Sin
Lee Sin es eficaz a la hora de centrarse en objetivos individuales, así que trata de atacar los carriles enemigos o la jungla enemiga para conseguir muertes rápidas desde el principio.
Utiliza Onda sónica antes de Furia del dragón cuando persigas a un objetivo débil para poder utilizar Golpe resonante.