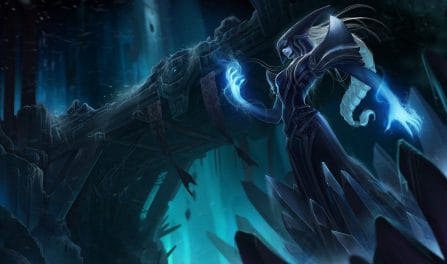 Las mejores runas, elementos y consejos para dominar a tu competencia
65,949 Lissandra Builds Analizadas
We established our Lissandra build recommendations by analyzing 65.949 recently ranked League of Legends matches with her in them. We only propose the highest winrate Lissandra builds that were used by ranked LoL players enough times for us to reccomend them. With so many rounds in our data, we are quite confident in our suggested builds.
Additionally, Lissandra builds dedicated to a particular skill rank can be displayed by choosing another tier from the dropdown menu found above. The suggested Lissandra build shown will be focused on that division's meta.
Los mejores items para

Lissandra
The most important items to incorporate into your champ's build include: Tempestad de Luden,Sombrero mortal de Rabadon, and Reloj de arena de Zhonya. Those who included these pieces in their kits had a significantly better win rate than players who utilized other item builds for Lissandra.
Additionally, similar to our rune builds, you can also get quality, focused, Lissandra item builds below for the particular enemy team comp you are playing in your next match.
Lissandra

Items para derrotar a los Comps de equipos enfocados
Las mejores runas para

Lissandra

Electrocutar

Golpe bajo

Colección de globos oculares

Cazador definitivo

Entrega de galletas

Tónico de distorsión temporal
If you are fighting a well-mixed enemy team arrangement, you should strongly consider getting Lissandra the Dominación, and Inspiración runes. In recent matches, she won the largest percentage of her matches when equipped with these runes.
Yet, if you are trying to beat a more single focused enemy team composition, such as an AP centric or a tank heavy team, you should instead look further down to find the best Lissandra runes to win your particular round.
Lissandra

Runas para vencer a los equipos enemigos dedicados

Electrocutar

Golpe bajo

Colección de globos oculares

Cazador definitivo

Trascendencia

Banda de maná
Guía para jugar con

Lissandra
Fragmento de hielo es una buena herramienta de acoso contra campeones enemigos en el carril y también ayuda a Lissandra a farmear súbditos.
Un buen combo de iniciación es Senda glacial para acercarse a los portadores enemigos, seguido de Tumba helada para aislarlos en el combate, y luego Anillo de escarcha y Fragmento de hielo para infligir daño.