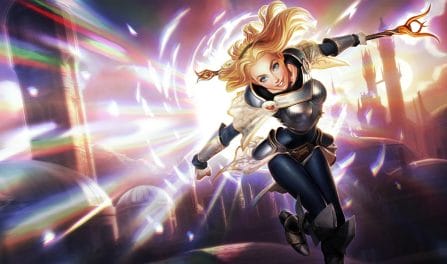 Los mejores campeones de LoL para sinergizar y contrarrestar a Lux
428,111 Lux Counters y emparejamientos analizados
We computed our best and worst Lux counters with data extract from 428.111 ranked League of Legends games. We have figured out those champs with the best and worse rates of victory when facing her. Furthermore, we calculated which champs can serve as valuable allies to help you win more League games.
As shown above, Xerath is the strongest to challenge Lux with a 53.7% victory rate against her. Close behind, Blitzcrank and Zyra are the next largest counters to Lux. They have win rates of 52.4% and 52.2%, respectively. You should not bring her into a match where one of these other champs has already been picked.
On the other hand, if you are playing against Rakan, you probably should anticipate doing much better. Lux counters them with a much higher win rate of 53.3%. Similarly, you can anticipate doing very well when fighting Senna and Karma. These champs have the next lowest win rates when countering Lux.
If you are interested in good champion pairings for your own allies to help boost your chances of winning even further, look at the champ synergies below.
Regardless of her lane, she does admirably when paired with Amumu. This combination typically boosts her average win rate by a few percent. Maestro Yi and Dr. Mundo are also fantastic champions to fight alongside.
To see the details and best Lux counter builds about a particular matchup, you should click the corresponding row in one of the tables above. If you are interested in any Lux counters that aren't displayed here, you can click the button near the top of the page to browse them.
To get Lux pairings and counters from a particular division rank, you may use the dropdown menu above to limit the counters provided.
Cada semana revisamos millones de partidas de League of Legends sacadas directamente de los servidores de Riot. Analizamos los datos usando tanto estadísticas convencionales como algoritmos avanzados de aprendizaje automático para obtener los counters de Lux más precisos.
Guía para contrarrestar a

Lux
Ten cuidado con el combo de Lux. Si quieres atacar, hazlo con toda la vida o con campeones aliados. No vayas directamente a ella sola.
Lux contrarresta a los campeones que persiguen. Con un enraizamiento y una ralentización, es muy difícil enfrentarse a ella si quiere mantener las distancias.
Intenta esquivar Hechizo luminoso colocándote detrás de los súbditos, pero no le des una oportunidad colocándote detrás de un súbdito moribundo.
Los jugadores de Lux a menudo arrojarán su habilidad AoE E ligeramente por detrás de sus objetivos, ya que los jugadores a menudo intentan huir instintivamente de ella. Correr hacia ella cuando usa su E puede ayudarte a evitarlo.