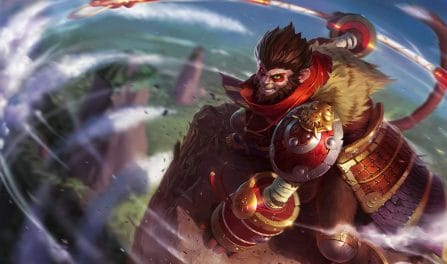 Los mejores campeones de LoL para sinergizar y contrarrestar a Wukong
79,990 Wukong Counters y emparejamientos analizados
Mejores counters de

Wukong
Peores counters de

Wukong
To determine the greatest and worst counters for Wukong, we summarized the outcomes of 79,990 recently finished, ranked LoL matches. We found which champs have the greatest and poorest win rates versus him. Furthermore, we found those select champs that are solid companions and who could help stop him from being beaten. Having examined so many rounds gives us complete faith in our Wukong counter stats.
As you can see above, Zyra is the best counter to Wukong with a 52.0% victory rate against him. In a close second and third place, Swain and Corki are the next largest threats to Wukong. These two champs have win rates of 52.0% and 51.0%, respectively. You should not take him into a game where any of these champs has already been chosen.
On the other hand, if you're facing off against Kalista, you can expect to do much better. Wukong counters them with a solid win percentage of 57.0%. Equally, you should expect to do very well when fighting Zoe and Jayce. These champs have the next lowest winrates when countering Wukong.
If you would like the best champion synergies for your own allies to enhance your win percentage even further, take a peek at at the Wukong synergies above. Regardless of his chosen position, he does best when paired with Zac. This combination typically improves his chances of winning by 5.0%. Trundle and Zyra are also fantastic champions to fight alongside.
To examine the details and best Wukong counter builds about a specific matchup, you can click the corresponding row in one of the tables above. If you are looking for some Wukong counters that aren't shown here, you can click the "All Matchups" button to view details on all potential counters.
Additionally, if you are looking to find Wukong synergies and counters for a particular rank tier, feel free to choose a specific division from the dropdown menu above.
Cada semana revisamos millones de partidas de League of Legends sacadas directamente de los servidores de Riot. Analizamos los datos usando tanto estadísticas convencionales como algoritmos avanzados de aprendizaje automático para obtener los counters de Wukong más precisos.
Guía para contrarrestar a

Wukong
Anticipa el plan de salida de Wukong al gankear para identificar al verdadero campeón y no al señuelo.
Aísla a Wukong cuando intentes matarlo para evitar que reciba demasiadas cargas en la habilidad de alta dureza.