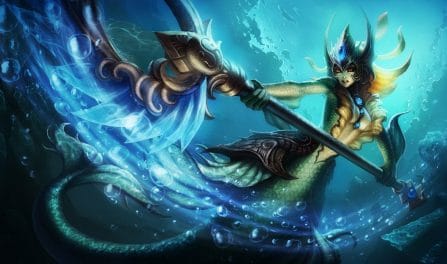 Los mejores campeones de LoL para sinergizar y contrarrestar a Nami
71,856 Nami Counters y emparejamientos analizados
To select the most and least favorable counters for Nami, we checked the scores of 71,856 recently finished, ranked LoL games. We determined which champions have the greatest and poorest win rates versus her. Additionally, we found those rare champs that are exceptional teammates and who could help stop you from being countered. Having summarized so many games gives us great confidence in our conclusions.
As shown above, Zyra is the best to face off against Nami with a 53.0% victory rate against her. In a close second and third place, Trundle and Blitzcrank are the next scariest threats to Nami. These two champs have win rates of 52.0% and 52.0%, respectively. You should avoid taking her into a match where any of these other champs has already been chosen.
Conversely, if you are battling against Azir, you should expect to do much better. Nami counters them with a very respectable win percentage of 56.0%. Likewise, you can expect to do very well when battling Nidalee and Gwen. These champs have the next poorest winrates when trying to counter Nami.
If you are interested in the best champ synergies for your own teammates to increase your victory rate more, glance at our champion synergies above. Regardless of her lane, she does best when alonside Nocturne. This combination typically improves her chances of winning by 3.0%. Kled and Kog'Maw are also great champs to pair with.
To see the details and best Nami counter builds for a specific matchup, you should click the corresponding row in the tables above. If you are interested in some Nami counters that aren't shown here, you may click the button near the top of the page to browse them.
In order to see Nami pairings and counters from a particular division rank, you can use the dropdown menu above to filter the counters provided.
Cada semana revisamos millones de partidas de League of Legends sacadas directamente de los servidores de Riot. Analizamos los datos usando tanto estadísticas convencionales como algoritmos avanzados de aprendizaje automático para obtener los counters de Nami más precisos.
Guía para contrarrestar a

Nami
El enfriamiento de Prisión Acuática es muy largo, por lo que hay que atacar si ella falla la habilidad.
El Maremoto es fácil de esquivar si sabes en qué fijarte. Evitar la lucha contra su equipo en la selva, ya que puede que no haya ningún lugar donde esconderse en la selva.
Nami contrarresta a campeones de corto a medio alcance. Sus habilidades se centran en proteger su carry y mejorarlo.