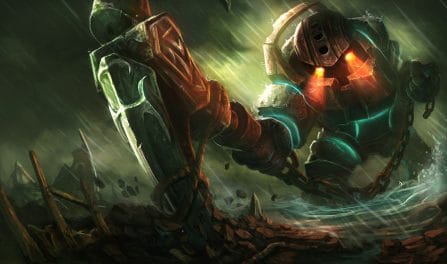 Las mejores runas, elementos y consejos para dominar a tu competencia
112,704 Nautilus Builds Analizadas
Los mejores items para

Nautilus
The most essential items to incorporate into your Nautilus build are: Locket of the Iron Solari, Abyssal Mask, Thornmail, and Dead Man's Plate. Furthermore, similar to our rune builds, you can also get great, focused, Nautilus item builds further down for the particular enemy team comp you are battling in your ongoing match. Players who included these pieces in their kits had a higher winrate than those who went for other builds for Nautilus.
Nautilus

Items para derrotar a los Comps de equipos enfocados
Las mejores runas para

Nautilus

Protector

Golpe de escudo

Revestimiento de huesos

Revitalizar

Entrega de galletas

Tónico de distorsión temporal
If you are playing a mixed enemy team composition, you should really consider grabbing yourself the Guardian, Shield Bash, Bone Plating, Revitalize, Biscuit Delivery, and Time Warp Tonic runes. In recent matches, he won the largest fraction of his rounds when built with these runes. However, if you are facing a different enemy team composition, such as an AD centric or a CC centric team, you should instead look below to get the best Nautilus runes to win your particular game.
Nautilus

Runas para vencer a los equipos enemigos dedicados

Reverberacción

Golpe de escudo

Condicionamiento

Revitalizar

Entrega de galletas

Perspicacia cósmica
Guía para jugar con

Nautilus
Activa la Ira del Titán antes de una pelea de equipo o de un enfrentamiento para maximizar el daño y la capacidad de tanque.
La fuerza del escudo de Ira del Titán aumenta con el bonus de vida, así que acumula objetos de vida.
Usa Carga de profundidad en la línea trasera del enemigo, ya que atravesará a los campeones enemigos y los derribará hasta que alcance el objetivo.
Our Nautilus builds result from our evaluation of 112,704 recently ranked Nautilus matches. Only the top winrate Nautilus builds that are also commonly used are suggested by us. Since we have so many matches in our database, we are absolutelyconfident that we can provide the highest quality builds for Nautilus to help you win your next game!
Additionally, to see the best Nautilus build for a different skill level, you can pick a different one from the dropdown menu above. The recommended Nautilus builds will change to reflect that skill level's meta.