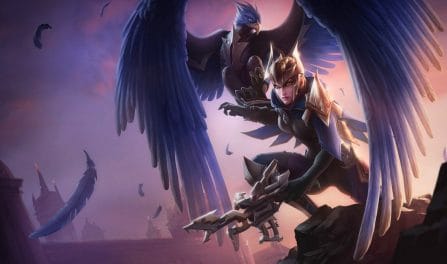 Los mejores campeones de LoL para sinergizar y contrarrestar a Quinn
62,604 Quinn Counters y emparejamientos analizados
To determine the most and least advantageous counters for Quinn, we analyzed the results of 62.604 recently finished, ranked LoL games. We found which champs have the best and worst win rates versus her. Moreover, we calculated those rare champions that are exceptional teammates and who could help stop her from being crushed. Having summarized so many matches leaves us with great certainty in our Quinn counter stats.
As can be seen above, Tahm Kench is the strongest counter to Quinn with a 53.4% win percentage against her. Similarly, Yorick and Teemo are the next greatest counters to Quinn. These two champs have win rates of 53.3% and 53.3%, respectively. You should avoid taking her into a round where one of these other champs has been picked.
Mejores counters de

Quinn
Conversely, if you are playing against Darius, you probably should anticipate doing much better. Quinn counters them with a great win rate of 54.1%. Similarly, you can expect to do very well when fighting Garen and Riven. They have the next lowest winrates against Quinn.
If you want the best champion synergies for your own teammates to enhance your winrate, take a peek at at our champ synergies.
Regardless of her chosen position, she does very well when paired with Amumu. This pairing typically boosts her chances of winning by a few percent. Ziggs and Brand are also awesome champions to team up with.
To review the details and best Quinn counter builds for a specific matchup, you should click the corresponding row in one of the tables above. If you are interested in specific Quinn counters not listed here, you can click the "All Matchups" button to get them.
To narrow the Quinn counters to a specific skill level only, pick the desired skill level from the dropdown above. The provided champ counters and pairings will update.
Cada semana revisamos millones de partidas de League of Legends sacadas directamente de los servidores de Riot. Analizamos los datos usando tanto estadísticas convencionales como algoritmos avanzados de aprendizaje automático para obtener los counters de Quinn más precisos.
Guía para contrarrestar a

Quinn
Si Quinn utiliza el Asalto para iniciar y atacar, trata de derribarla ya que no tendrá un escape confiable.
Los hechizos de control de masas son muy efectivos para contener a Quinn.
Quinn contrarresta a muchos campeones cuerpo a cuerpo. Su reducción de la visión y su alto daño explosivo pueden ayudarla a eliminarlos antes de que sean capaces de enfrentarse a ella. Sin embargo, es relativamente débil, así que trata de ralentizar su escalado.
Además, con la movilidad que gana después de alcanzar el nivel 6, Quinn contrarresta a la mayoría de los campeones de empuje dividido. Ella es capaz de perseguirlos y eliminarlos 1: 1 antes de que alcancen sus objetivos.