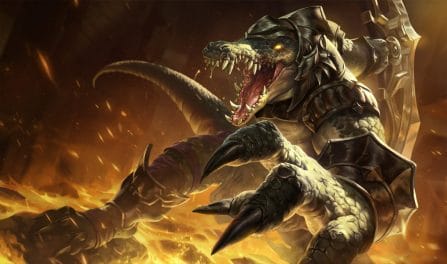 Las mejores runas, elementos y consejos para dominar a tu competencia
115,362 Renekton Builds Analizadas
Our Renekton builds result from our evaluation of 115.362 recently ranked Renekton games. Only the best win rate Renekton builds that are also commonly used are suggested by us. Since we have so many games in our dataset, we are quite sure that we can provide high quality builds for k to help you win your next round!
Additionally, to see the top Renekton build designed for a different skill level, please select a different skill tier from the dropdown above. The recommended champ builds will update to characterize that skill level's meta.
Los mejores items para

Renekton
The most critical items to include in your champion's build are: Chupasangre,Ángel de la guarda, and Cuchilla negra. Those who added these pieces in their setups had a much better win rate than players who went for other item builds for Renekton.
Yet, like our rune recommendations, you can also find great, focused, Renekton item builds farther down for the specific enemy team comp you are playing in your current match.
Renekton

Items para derrotar a los Comps de equipos enfocados
Las mejores runas para

Renekton

Conquistador

Triunfo

Leyenda: Tenacidad

Último esfuerzo

Revitalizar

Revestimiento de huesos
If you are trying to beat a varied enemy team comp, you should really consider grabbing him the Precisión, and Valor runes. In recent games, he won the largest percentage of his games when using these runes.
Yet, if you are playing a different enemy team comp, such as an AP heavy or a crowd control centric team, you should instead scroll a little down to use the best Renekton runes to defeat your particular combination of foes.
Renekton

Runas para vencer a los equipos enemigos dedicados

Conquistador

Triunfo

Leyenda: Tenacidad

Último esfuerzo

Fuerzas renovadas

Revitalizar
Guía para jugar con

Renekton
Cortar y Trocear es una excelente herramienta de acoso si se puedes aterrizar de forma fiable Cortar. Entra, golpea a tu enemigo, y Trocea para un acoso limpio.
En las peleas en equipo, debes ser la principal esponja de daño. Tu Build de Renekton debería tener al menos unos cuantos objetos para mejorar tu capacidad de supervivencia.